Do you use any social sharing plugin on your website? Do you have a consistent social media traffic coming to your website?
If you said no to those two questions, you're missing out on your traffic.
Social sharing plugins could help you increase your social shared that in turns would bring more traffic to your site. With so many social sharing plugins out there, it's not easy to find one that would work best for you.
I tried a couple of different plugins on TypeEighty before settling on a specific plugin and I will share with you at the end of the post what drove me towards choosing that plugin.
In this post, I will share 12 best social sharing plugins that I think it's the best out there. I've tested it out to give you a more detailed opinion. Hopefully, it would help you choose the right plugin for your website.
Disclaimer: Some of the links below are affiliate links, meaning if you choose to buy them, I will earn a commission at no extra cost to you. Please know that I have experience with all of the following resources and I recommend them because they are great.
Let's get started!
12 Best Social Sharing Plugins for WordPress
Social Warfare – Probably the Best Social Sharing Plugin for WordPress

Probably the best social sharing plugin for WordPress, it's the social sharing plugin we use at TypeEighty.
What I like about Social Warfare is built with performance in mind, it doesn't slow down your website.
Social Warfare helps you leverage the power of social proof. You could display your social share counts predominantly to encourage your audience to share your content. You could keep the share count hidden until you hit a minimum number of shares.
In this way, you could avoid "negative social proof". You set it once and Social Warfare does the rest for you.
"Because this plugin has so many awesome features, additional social sharing button options for various platforms, including the ability to create Click-To-Tweet inside of blog posts, I've seen more engagement, more shares and tweets! Far more than I have using any other plugins."
– Fabrizio Van Marciano, Magnet4Blogging.Net
With Social Warfare, creating tweetable quotes is a breeze with its Click-to-Tweet feature. It makes it easy for your audience to share your content. Just like this one below.
[click_to_tweet tweet="12 Best Social Sharing Plugins for WordPress. @warfareplugins #wordpress #blogging #socialwarfare" quote="12 Best Social Sharing Plugins for WordPress."]
Social Warfare Pro version allows you to use its advanced Pinterest features. Pinterest favors tall images unlike other social networks and Social Warfare lets you add a custom image and rich description that will show when someone shared your content on Pinterest.
That means no more ugly long images on your post; it distracts your audience from enjoying your content.
Another feature that I found very useful is Frame Buster. Frame Buster prevents people from using apps such as Sniply and Start a Fire to hijack your content and add their own calls-to-action.
Features:
Well designed Admin UI
Beautiful social button design
Over 15 social network to choose from
Floating share buttons
Social share count and total share count display
Popular post widget based on social share counts with customizable design
Display social buttons anywhere shortcode
Key Features:
Click to tweet
[PRO] Advanced Pinterest features: Special Pinterest image, rich pin
[PRO] Image Hover Pin Button. Make it easy for your audience to share on Pinterest.
[PRO] Share customization
[PRO] Minimum count social proof. Set a minimum count for your share count to appear.
Content protection with Frame Buster
[PRO] Link shortening
[PRO] Google Analytics tracking
[PRO] Share count recovery. Social Warfare helps you recover your social count when switching from HTTP to HTTPS.
Price: FREE. Pro version starts from $29/year.
Monarch – Best Social Media Sharing Plugin for Elegant Themes Community
Monarch is created by Elegant Themes, the one behind the popular Divi 3.0, as part of Elegant Themes.
I would say Monarch is the best social media sharing plugin for Elegant Themes users as they will be able to use this plugin for free. However, if you've not joined Elegant Theme, this plugin could be expensive compared to the other plugin. You'll have to pay $89/year.
Media is arguably the most shared content on the internet.
What I like about Monarch is it makes easy for users to share media content on your site. When users hover over an image or video on your site, the social sharing button will appear.
Another important feature that could increase your traffic is you could display sharing pop-up & fly-in based on user interactions on your site. For example, you could show a sharing pop-up when the user scrolls down the page.
The trigger that I liked the most is to show the sharing pop-ups when users reach the bottom of a post. If a user finishes reading your post, there's a higher chance they will share your post.
Features:
Monarch dashboard – view your social sharing statistic
Over 30 social networks to choose from
Social count display
Mobile responsive
Key Features:
Display social buttons anywhere with shortcode
On Image & Video sharing
Automatic popup
6 unique event triggers for sharing pop-ups & fly-in
Price: $89/year.
Even at this price, Monarch isn't the most expensive plugin in our list. Keep reading and find out which one!
Social Media Share Buttons & Social Sharing Icons – Social Sharing Buttons with Themes Built for Any Website
This plugin currently has the highest rating of all social sharing plugin for WordPress with an average rating of 4.9 out of 5 stars based on over 3 thousand reviews.

With support over 100 social networks, you can configure a custom action for your social icons. For example, you could direct your audience to your Facebook page when they click on the Facebook icon.
You could also display an email icon together with the social sharing buttons. Make it easy for the user to contact you simply by clicking on the email icon.
Features:
Over 100 social networks supported
[PRO] Over 20 icon design options to choose from
[PRO] Over 200 themed design styles
Floating sidebar
Sticky social bar
Social share count
mobile optimized
Key Features:
Set custom actions for your media share icon
Pop-ups social share or social follow
[PRO] Better social sharing and following features
[PRO] URL shortener
[PRO] Share count recovery
Price: FREE. Pro priced at $25/year.
Easy Social Share Buttons – Social Sharing Button That Does More Than Sharing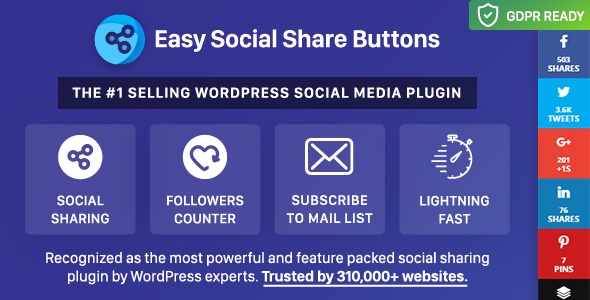 This plugin is currently being sold on CodeCanyon for $20 and it's packed with tons of features. By far, this plugin does a lot more than what a social sharing plugin would do. At the time of this writing, it has 4.66/5 ratings and more than 24 thousands sales.
This plugin not only makes it easy for users to share your content and media with its on media sharing feature but it helps you to build your user list with its Subscribe module.
If you've used OptinMonster to build your list, you'll be familiar with the Subscribe module. It comes with 8 different designs and integrates nicely with 8 different mailing services.
This plugin also leveraged on social proof to encourage users to share your content. But unlike Social Warfare's minimum share count, it introduces a feature called "Fake Share Counter". While it works to avoid negative social proof, I found that Social Warfare uses a better and more ethical approach to this issue.
If you're running eCommerce sites such as WooCommerce, you gonna love this one. With this plugin, your users could share your product easily on social media.
Personally, I like a plugin that only does a certain thing and great at those things rather than one plugin that does everything. At TypeEighty, we use OptinMonster to grow our list building and find the Subscribe module to be redundant.
Features:
Lightning fast
Over 50 social networks
50 different social button templates
27 different social button display positions
35 ready-made styles
Analytics and tracking
URL shortener
Mobile and AMP support
Key Features:
Personalized Pinterest Image
Click to Tweet
On Media Sharing
Subscribe Module
Event base triggers: scroll, delayed, exit intent
After Share Action
A/B Testing
Share recovery
eCommerce Ready
Price: $20
Social Pug: Good Social Sharing Plug-In with Limited Free Features

Social Pug is another popular social sharing plugin for WordPress, it's similar to Social Warfare up to a certain degree.
While the free version is VERY limited in terms of features, PRO version comes with key features that will boost your social shares dramatically.
Social share count works best by leveraging on social proof to drive up to total counts. Like Social Warfare, you could avoid any negative social proof by setting a shared quota to hit before displaying the share counts.
If your blog relying heavily on Pinterest as your main social traffic driver, you'll love the custom social share image and description feature. With Social Pug, you could assign a custom long image that Pinterest favors highly to your post so your user will share a more optimized image on Pinterest.
What I like about Social Pug is you could trigger a social sharing pop-up based on how user interacts with your website. Do you want to show a pop-up when user reaches the bottom of your post? Or when the user wants to exit your site? You could do that with Social Pug.
Overall, while Social Pug gives few key features with its Pro version, we will like the Free version is too limited in term of features as compared to other plugins on this list.
Features:
Over 15 social networks
4 default sharing location
Floating sidebar
Editable button label
Social share count and total share counts display
Place buttons anywhere with [socialpug_share] shortcode
Key Features:
[PRO] Custom Pinterest share image and description
[PRO} Click to tweet
[PRO] Minimum share count
[PRO] Mobile sticky footer buttons
[PRO] Pop-up social share buttons
[PRO] Link shortening with Bitly
[PRO] social media follow button widgets
[PRO] Analytics and tracking
[PRO] Most shared post widget
Price: Free. Pro starts at $29/year.
[click_to_tweet tweet="12 Best Social Sharing Plugins for WordPress in 2018. #wordpress #blogging #warfareplugins #monarch" quote="12 Best Social Sharing Plugins for WordPress in 2018 to increase your social sharing."]
Mashshare – the Social Media Ecosystem

If you're visited Mashable before, it shouldn't come as a surprise that MashShare takes the cue of its design style from Mashable.
MashShare is a free social media sharing plugin that's highly customizable.
It's built as a social media ecosystem with its add-ons that you could install to maximize social sharing and optimize your content.
With NO external script dependencies and all code is loaded directly from your website, MashShare ensures yours and your visitors' privacy is secured. After all, privacy is a huge issue on the internet now, huh!
I like the idea that it tried to build an ecosystem by providing users with tons of free and paid add-ons. However, as of Right now, most of the add-ons are paid add-ons and price starts from $20++. You could get a discounted price for buying the add-ons in a bundle, price starts from $45++.
Features:
Fast – NO external script dependencies
Over 20 social network supported
3 different share styles
Social share count including twitter tweet count
Display social share buttons anywhere with shortcoode
Most Shared Posts Widget
Key Features:
URL shortener
Integrates with All in One SEO Pack and WordPress SEO by Yoast.
Support for AMP (with official WP AMP)
Multi language support
Has free and paid tons of add-ons
Price: FREE. Add-ons starts from $20/year. Bundled add-ons starts from $45/year.
WP Social Sharing – Lightweight Sharing Plugin that Does the Job
WP Social Sharing is a simple lightweight social sharing plugin that does one thing well, sharing your content on social media. At the time of writing, this plugin is last updated 8 months ago and it's been maintained by a solo developer.
There's nothing much to cover with this plugin. While it's lightweight, it lacks some key features such as social share count that would help with social proof.
I would prefer to use other free alternatives in this list that comes with more features, better design and maintained by a company or dedicated team as it provides better stability and support to its users.
Features:
7 social networks support
2 default location supports
Display social share buttons anywhere with shortcode
Key Features:
Custom text on the social button
Mobile responsive social icons with CSS
Price: FREE
AddtoAny – Long Running Social Sharing Plugin That Looks Outdated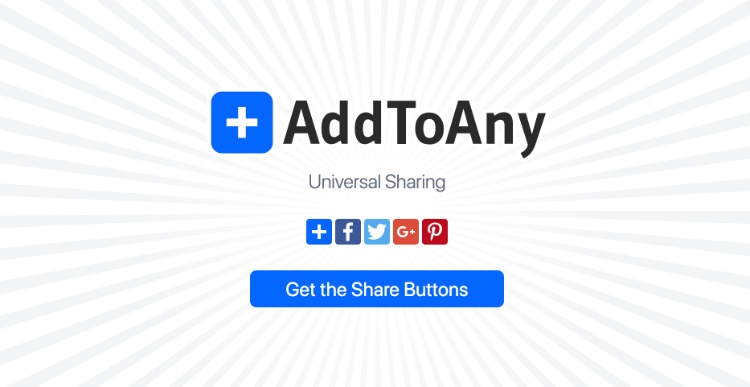 AddToAny is the oldest social sharing plugin in the list with over 10 years of development and 8 million downloads on multiple platforms. It currently has over 500 thousands active installations on WordPress sites.
It supports over 100 social networks, that's a lot of choices for users to share your content.
While this plugin has been around for a long time, we feel that not much work has been done in terms of design and style. Compared to other social sharing plugin, the design looks very outdated and not pretty.
I feel that you should try other free alternatives on the list if you're looking for a free plugin. Even though AddToAny supports over 100 social networks, it's important to limit your social network choice to up to 5 social networks. Focus on the social networks that work for your audience, it's not a number game. Quality over quantity.
Features:
Over 100 social networks
5 display location
Floating share button
Display social sharing buttons anywhere with shortcode
Mobile optimized and retina ready
Key Features:
URL shortener
Share count
Google Analytics integration and links tracking
WooCommerce support
Multilingual sites support
Multisite support
AMP pages support
Price: FREE
Social Sharing by Danny – Minimalistic Social Sharing Plugin but Limited

Yet the simplest social sharing plugin on WordPress with its minimalistic design. The author of this plugin takes a different approach compared to other plugins in the list. It aims to be simple, lightweight and flexible.
[click_to_tweet tweet="Social Sharing by Danny is a minimalistic approach to sharing buttons. #wordpress #blogging #socialsharing" quote="Social Sharing by Danny is a minimalistic approach to sharing buttons."]
Social Sharing by Danny only supports 3 social networks: Twitter, Facebook, and Google+. If you're relying on Pinterest as your social traffic driver, this plugin is not for you.
Features:
Only supports Twitter, Facebook, and Google+
Simple icon styles with hover effect
Display the buttons anywhere you want with its shortcode
Key Features:
Small file size of 600 bytes with no other external scripts dependency
Multilingual site support
Configurable filter to set when to display the sharing links
Price: FREE
AddThis – Social Sharing Plugin with Analytics Dashboard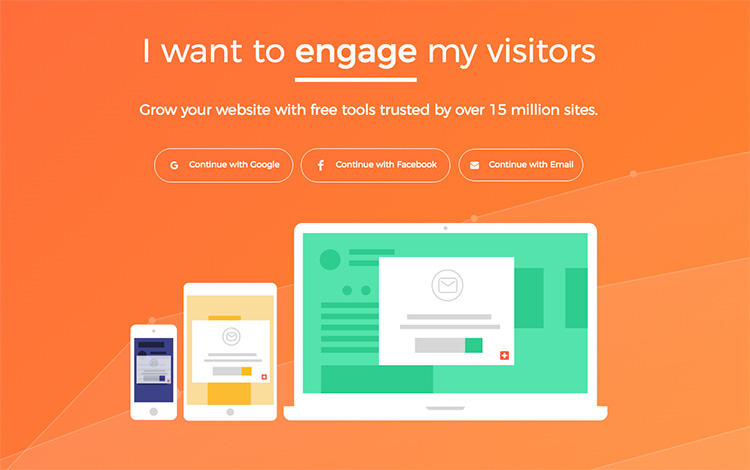 If you've used AddToAny before, you might be familiar with AddThis. Not only it has a similar name, but it also looks similar in terms of design and functionality, and they boasted a huge number of social networks supported. AddThis supports over 200 social networks including Messenger, WhatsApp, and many more. That's 100 more than AddToAny,
To get analytics insights on how well your content is performing, you'll need to sign up for a free AddThis account and access these analytics data via your AddThis dashboard.
The sharing plugin has pretty limited features compared to others but it has a few other plugins that help you grow and engage your audiences such as follow buttons and related posts.
If you look at other plugins on the list such as Social Warfare, it gives you a widget to display top shared content out of the box without the need to install an additional plugin.
Personally, I like to limit the number of plugins installed on my site. The more plugins you installed, you increase the load time and other risks that might happen.
Features:
Over 220 social networks
20 different styles to choose from
Floating share button
Display share button anywhere via [addthis] shortcake
Mobile Responsive
Key Features:
Image sharing button
Analytics via AddThis account
Tools available: follow button, related post, list building, link promotion
Price: FREE
Custom Share Buttons with Floating Sidebar – Get Pro Version with One Time Payment
True to its name, this plugin allows you to add floating social sharing sidebar to your site.
Some of the features that are available on other plugins aren't available freely in this plugin. If you want to display social share counts or display social sharing button anywhere on your site with shortcode, you have to get the PRO version.
Apart from these key features, the PRO version offers a few other customizations option. It also comes with Lightbox / pop-up contact form, which I don't think added much value to social sharing.
At a price point of $40/year, this plugin seems too expensive as compared to other PRO social sharing plugins on this list.
Features:
Lightweight with no external library dependency
9 social networks supported
Floating sidebar
Custom image or background color of social buttons
Options to display and hide button on specific post or page
Options to specify the location of the share button on a specific post or page
Key Features:
[PRO] Advance feature of Pinterest share buttons
[PRO] Total social share count
[PRO] Responsive floating sidebar
[PRO] Display social buttons anywhere with shortcode
[PRO] Responsive light box contact form
Price: FREE. Pro version starts at $40.
Shareaholic – Social Sharing Plugin That Helps You to Monetize

Founded back in 2009, Shareaholic has quickly grown to the world's leading suite of social, analytics, monetization, and share button tools.
Apart from social sharing features, Shareaholic makes it easy for you to engage, grow traffic and monetize your audience.
Built to be lightweight without hurting your page load speed, Shareaholic has earned recognition from the best-managed WordPress hosting in the world, WP Engine, as being an Essential Speed Friendly Social Media & SEO Toolkit.
A good thing about Shareaholic, it's the only plugin that gives on media sharing feature on their free plan.
It's the official Google Analytics partner and offers automatic integration. Do take note that the free plan only stores 30 days of analytics data storage. This could be crucial if you want to monitor your traffic for more than 30 days.
If you have a huge audience and been finding ways to monetize from your audience, Shareaholic makes it easy to drive targeted traffic and leads with its Native Ads.
With all these features to help you monetize your content and audience, it comes at no surprise that Shareaholic is the most expensive social sharing plugin on the list. The PRO plans start at $8/month (billed annually) or $96/year.
Features:
Floating sidebar
Over 30 social networks supported
Social share count
URL shortener
Related content/posts widget
Promote & advertise content via Related Content Advertising Tools
Mobile optimized
Follow buttons
Key Features:
Automatic & Official integration with Google Analytics
Automatic integration with "All in One SEO Pack" and "WordPress SEO by Yoast"
On Media sharing
[PRO] Share count recovery. Never lose your share counts when you switch to HTTPS.
Automatically turn your existing links into affiliate links
Content promotion and advertising via Shareaholic's Related Content Advertising Tools
Price: FREE. Pro plans start at $8/month.
Final Thoughts
With so many social sharing plugins available, choosing the best social sharing plugin that works for your website or blog isn't an easy task. I tried a couple different plugins on TypeEighty, before settling down on Social Warfare.
There're a few decisions that drove me towards choosing Social Warfare. Firstly, unlike Monarch or Easy social share buttons, I could try Social Warfare free version and see how it looks on my site. If I am an Elegant Theme user, I might give Monarch a try but as I'm not, Monarch is an expensive plugin for me to set up.
Second, I like was looking for a way to select a custom long image for users to share Pinterest without showing it on the post and Social Warfare makes it easy to do that.
Finally, I pay a lot of attention to the security of my site including content security. Frame buster is easily the main driver for me to choose Social Warfare knowing that my content is protected from piracy and optimized for social sharing.
Do I miss any social sharing plugins? What plugin do you use on your blog and why? Let us know in the comment below.
---
I am a front-end developer and I teaches entrepreneurs who want to grow their audience, start an online business, and pursue their dream life. When I spend time away from the computer, I enjoy reading books and having a cup of green tea.
All author posts