Do you want to start a blog?
Are you wondering how you can start your own blog?
If you are, you're in the right place.
Before I started blogging, I have zero knowledge about blogging. I wanted to start my own blog as space for me to share my knowledge, ideas but I have no idea how to start blogging.
Feels like it took me forever to start my blog back in April 2017.
I have many questions in my mind with so little answers. I wish I found a complete guide on how to start a blog for a beginner when I started my first blog.
If you're still not sure why you should start blogging, you should take your time to read Joshua Becker's 15 Reasons I Think You Should Blog.
So in this post, I will show you step by step how you can start your own blog with no technical skill required.
Keep on reading.
Why Should You Start a Blog?
There are many reasons why people start blogging. There is no single answer to this question. These 4 reasons below help me to get starting with my blog.
A blog is a good medium for you to share your passion, thoughts, and knowledge. There are a few blogs that I read up every day simply because there're so many things I could learn. I am sure you have a few blogs that you always frequent it yourself. With that in mind, I started my blog to share my programming knowledge and to teach people how they can start their own blog. I find that blogging about what interest you will make you enjoy blogging faster. What is your passion? If you like cooking, you could start a food blog sharing your favorite recipes. Do you get the idea?
Blogging teaches you how to become a better writer. I have to admit, I am very bad at writing. This is one of the main reasons that been holding me back for years from starting my own blog. What I failed to realize is that as I keep on publishing new blog posts over time, I can see how blogging regularly improves my writing. Becoming a good writer is an important skill in life.
Blogging helps you to learn new things. Blogging isn't easy. If anyone ever tells you blogging is easy, think again. Why? Blogging isn't all about writing, you need to learn how to promote your content, how to find the right audience, how to do link building, and many more. To be successful in blogging, you need to constantly learn these new things.
You can make money from blogging. There are many ways you make money from blogging. You could monetize your blog through advertising, affiliate marketing or selling your own virtual products, e.g ebooks, recipes, etc. However, if you started blogging with the intention to make money from the get-go, you started off on the wrong foot. The biggest reason why people failed at blogging is they tried to make money right from the beginning before they even have a decent audience. Focus on creating great content and building your audience and find which methods work for your blog.
If you're new to blogging, you should check out Smart Passive Income and Making Sense of Cents blogs. Pat Flynn and Michelle are 2 prominent figures in the blogging industry. They have great success from blogging and they share their blogging journey on how they could make money from their blog so you could do the same.
So, are you ready to start your own blog?
Let's get started.
6 Steps to Start a Blog
1. Choose a good blogging platform
2. Find a web host
3. Register a domain name
4. Configure your blog
5. Design your blog
6. Start writing blog posts
Step 1: Choose a Good Blogging Platform
If you want to start a blog, you need a good and reliable blogging platform.
There are many blogging platforms to choose from, but I highly recommend you to start with WordPress.
WordPress is by far the most popular blogging platform for all the good reasons. It's free, easy to configure, highly customizable and secure.
If you decided to get started with WordPress, you'll have 2 options: WordPress.com or WordPress.org.
WordPress.com is a hosted solution by WordPress. WordPress will host your blog and handle everything for you. You will have access to manage your blog. It's free to start but it has tons of limitation. You can't install a plugin with WordPress.com and you can't make money.
WordPress.org is a self-hosted solution. You will host your blog on your own hosting of choice. It will cost you a little money to get started but you will have full control over your blog. You can change how it looks, install plugins and make money with it. The self-hosted solution also comes with professional support from the hosting provider.
For new bloggers looking for ways to start a blog for free, you probably tempted to use WordPress.com. But in the long run, you will hit the limitation of the platform as you try to grow your blog.
I recommend you to get started with WordPress.org right from the beginning so you can focus on growing your blog and make money with it. Don't be afraid of the cost of hosting. The cost to get a self-hosted WordPress blog is very cheap now, it's even less than a cup of coffee.
If you really want to start your blog for free, I wrote a detailed article on how you could start a blog for free with Google Cloud. Bear in mind that it comes with no support, you need to have the technical knowledge and you're on your own.
In this guide, I will teach you how to start a self-hosted WordPress blog with Bluehost.
At TypeEighty, we provide a free WordPress blog setup so you could focus on creating great content from the get-go.
Step 2: Find a Web Host
I recommend using Bluehost to host your blog. Why? Bluehost has been the recommended hosting at WordPress.org since 2005. Bluehost offers the ultimate WordPress platform and they make it so easy for you to set up your blog with a 1-click installation.
Click here to get started now with Bluehost at $3.95/month. Through this link, you will get a FREE domain. Click on "get started now" green button.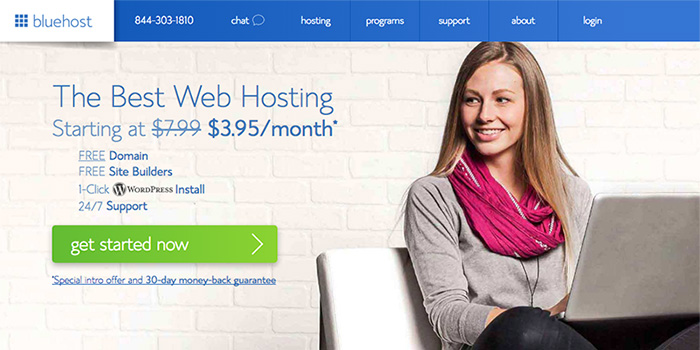 Note: This guide on how you could start your own blog contains some affiliate links. Meaning if you choose to buy them, I will earn a commission at no extra cost to you. Please know that I have experience with all of the following resources and I recommend them because they are great.
Select the plan that suits you best. If you're just starting your blog, I recommend you to go with the basic plan.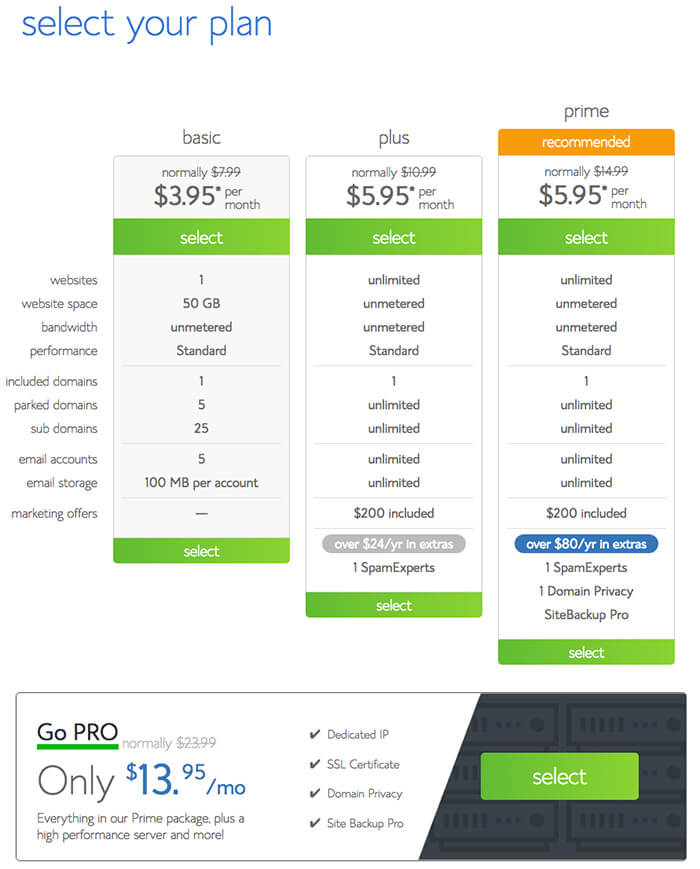 Once your blog starts to grow, you can upgrade your plan to Prime (you'll get Domain Privacy feature for free) or Pro (you'll get SSL Certificate that will help you with your SEO ranking and Domain Privacy feature for free).
Step 3: Register a Domain Name
A domain name is your blog address, this is how people can access your blog. For my blog, my domain name is typeeighty.com.
With Bluehost, you'll get a FREE domain. You can choose any domain name as long as it's available.
Now, some of you probably already have a domain registered with GoDaddy or Namecheap. You can enter your existing domain name in the right box.
If you don't have any domain yet, you could register a domain with Namecheap. Namecheap offers a monthly coupon code that will save you 10% off.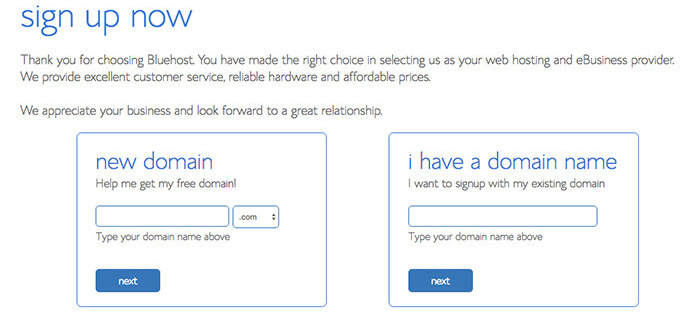 If you waited long enough to enter your domain, Bluehost is smart enough to know you don't have it ready. You will see this kind of pop-up where you can choose a free domain later so click on the green button to proceed.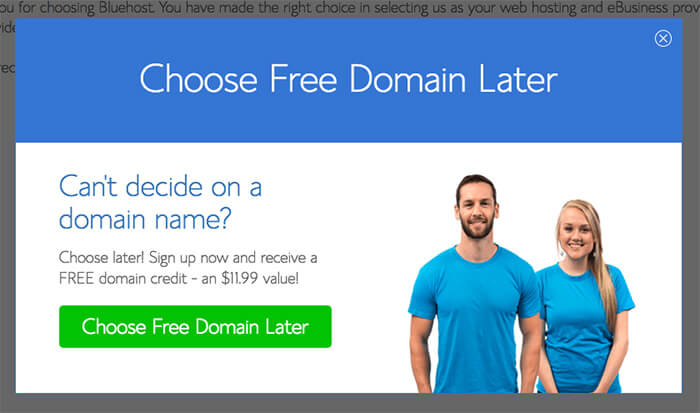 Choosing the right domain name for your blog is hard and time-consuming. Following are 7 main criteria for a good domain name for your blog:
Easy to type and memorable
Easy to pronounce
Short
Brandable
Using targeted keyword
Available across all social media channels
Using top level domain name (.com, .net, .org or others)
I have created a list of 10 best domain name generators that has helped me in the past in choosing domain names. Do check that out and be creative with your domain name.
Next, fill out your account info.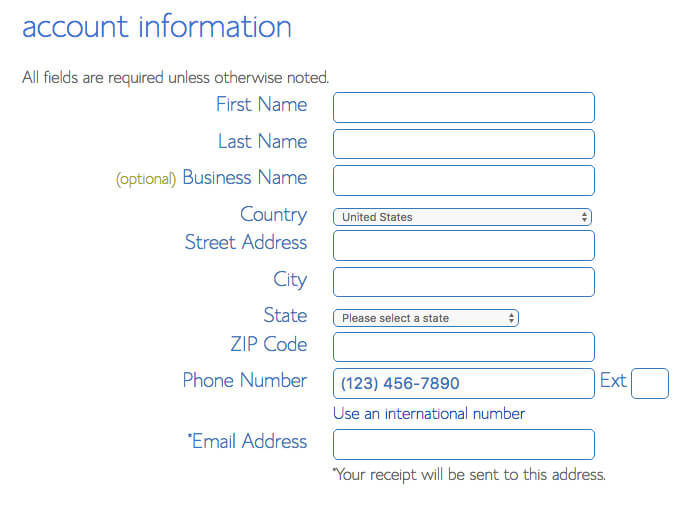 Choose the right account plan that you want to purchase. You choose 1, 2, or 3 years and Bluehost will bill you upfront.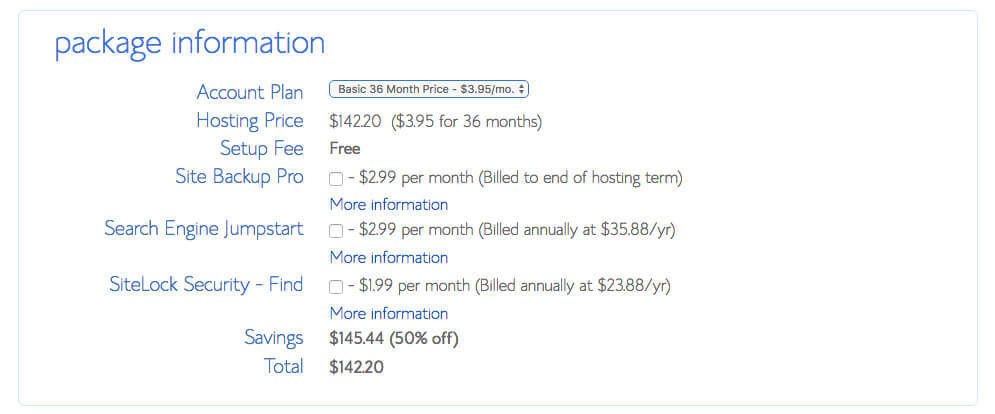 I recommend you to select Domain Privacy Protection, this will keep your personal information in the WHOIS database and keep it private.
Complete your purchase by entering your billing information, confirm the terms and click Submit.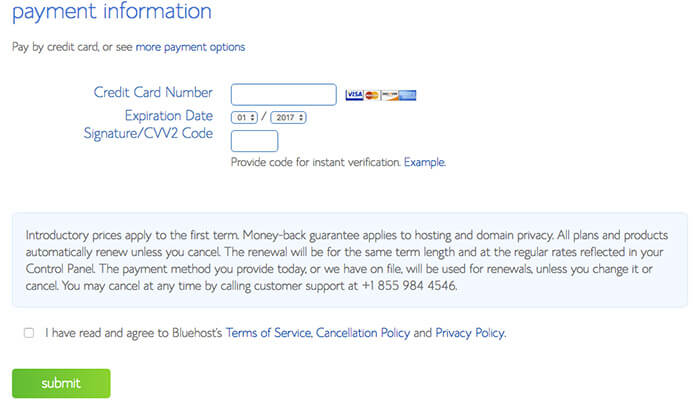 You'll get a congratulation message and a various upsells or offers, scroll down to the bottom of the page and click "No Thanks".
Now that you've completed your purchase, you'll be asked to create a password.
Step 4: Configure Your Blog
With recent update in October 2017, Bluehost makes it even easier to install WordPress. Basically, everything is done automatically for you.
After you created your password successfully, you can log in to your Bluehost account.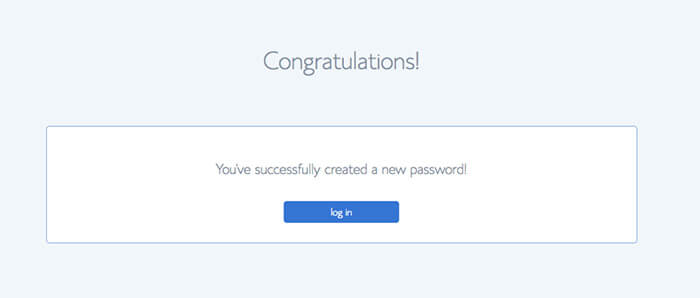 Bluehost will prompt you to choose a free theme for your blog. But, let's skip this step for now.
Now that you're all set, start building your site.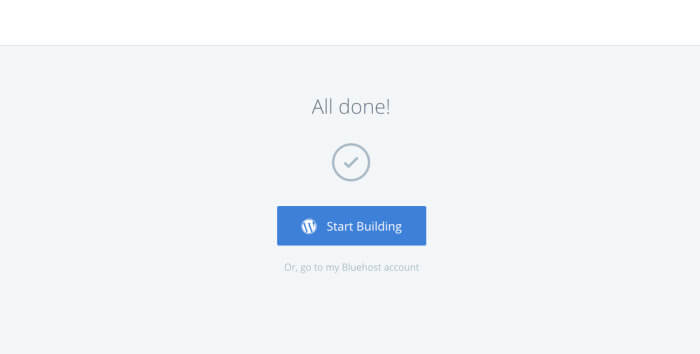 If you have no experience with WordPress before, you'll probably have no idea what to do next.
The first thing you want to do is to install WordPress plugins.
Recommended Plugins
Google Analytics for WordPress: The best Google Analytics plugin for WordPress. It's so easy to add your Google Analytics account and start tracking your visitors. You can see how your visitors find and use your website.
Yoast SEO: One of the must-install plugins for bloggers. Yoast SEO helps you to write a better content for your audience and optimise your content for Search Engine.
WPForms: The best plugin to build your contact form. With its Drag & Drop online form builder, you could create beautiful contact forms with just a few clicks.
WP Super Cache: A very fast and easy to use caching plugin for WordPress. This plugin would make your blog load faster.
Pretty Link Pro: If you plan to make money from your website (which you should), you should install Pretty Link plugin. You can shorten those ugly long affiliate links using your own domain name and track the performance of the links.
Social Warfare: The best social media sharing plugin that I'm currently using at TypeEighty. It's beautiful and doesn't slow down your blog.
OptinMonster: A great lead generation software to help you grow your email list fast by converting visitors into subscribers and customers.
Step 5: Design Your Blog
Now that you already installed all the important plugins for your site or blog, it's time to design your blog. Designing your blog involves a theme. A theme in WordPress is what shapes how your website looks and behave.
In simpler terms, your WordPress theme is your website or blog design.
WordPress has a lot of new free themes for you to choose from. For now, choose any free theme that you like to get started with. Don't spend too much time on choosing a theme now.
You can always change your theme later.
I created a tutorial for beginner blogger on how you can install a WordPress theme easily.
If you're feeling adventurous and opted for a premium theme, I highly recommend getting StudioPress themes.
StudioPress themes are powered by their own Genesis framework. Genesis framework is search engine optimized, mobile optimized, secure and it's easy to set up and use. It also has a huge community support so you can always get help when you encounter any issue.
Chances are whatever theme you chose, you'll need to make changes to it based on your branding, design guidelines or your own unique styles.
Before you start making any changes to your theme, make sure to set up your child theme so you could keep your theme updated without losing your changes.
Step 6: Start Writing Blog Posts
It's time to start working on your blog content and create new blog posts and critical pages for your blog.
Don't be afraid that your blog post will be poorly written. You'll get better in time as you get used to writing and find your own unique writing style.
When I first started blogging, I rely on tools such as Hemingway Editor and Grammarly to check and improve my writing. I highly recommend these 2 tools to help you improve the quality of your writing.
You could install the Grammarly Chrome extension to check your spelling and grammar as you type. It's the easiest way to make your writing flawless.
Hemingway Editor, on the other hand, works well to improve your content readability and make sure your message is loud and clear.
What's Next?
Now that you have your new blog up and running, you need to start growing your audience by creating great content. And then, you can start to think of how you could monetize your blog.
There are a few different ways you could do to make money from your blogs:
Affiliate marketing
Advertising
Sponsored post
Check out our resources page to find out more about all the essential blogging tools you need.
Final Thoughts
Starting a new blog now doesn't require any technical knowledge. Writing a blog post is the best way to share your knowledge and passion with your readers.
Now that you start a blog, you'll need to work hard to grow your audience and content. You will have to experiment with a lot of things and find out what type of blog posts work for your audience and what's not.
One advice for starting a new blog is to start building your email list right away. Your email list will be your most important asset, find out how you can grow your email list fast with OptinMonster, the best lead generation software.
Let me know if you have any question in the comment below.
---
I am a front-end developer and I teaches entrepreneurs who want to grow their audience, start an online business, and pursue their dream life. When I spend time away from the computer, I enjoy reading books and having a cup of green tea.
All author posts