Do you backup your website?
If you run an online store or a blog, you'll probably agree that your website is your most important assets.
You've spent countless hours working on your website from the time you set up your website.
Don't you hate it when you lose all the work you have done?
The time you spent designing your website, writing a new post, finding images for your post, moderating comment and interacting with your audiences, the list doesn't stop here.
Imagine this.
You just finished up a new post for your blog late at night. It's time to schedule your post for the next day and get some rest.
You're feeling great about it. You're excited to see how your audience will pick up your new post.
You wake up the next day and realize that your website is down and you can't access the Admin panel anymore.
You panicked and wasted no time to call up your hosting company. They investigated and found out that someone hacked your website. They can't help you with it as you don't have any backup of your site.
So everything you have worked for is gone and you have to start from scratch.
I've been there before.
I installed an outdated plugin that's no longer supported and a hacker got through to my website. While this might sound extreme but sometimes you don't need to get hacked to can lose your data.
Anshul shared his own nightmare where he accidentally deleted his database file when trying to optimise his website. He lost all the data from his 3-year old blog.
Sound silly? It's not.
Look:
Creating backup for your website is one of the most important things you could do to safeguard your data. Popular web hosting companies like Bluehost or SiteGround come with free backup tool. You could definitely use this tool to create a backup of your site.
But, I recommend you to install a backup plugin on your WordPress site to have full control over it. You could backup and restore your WordPress site with zero downtime.
Let's dive in.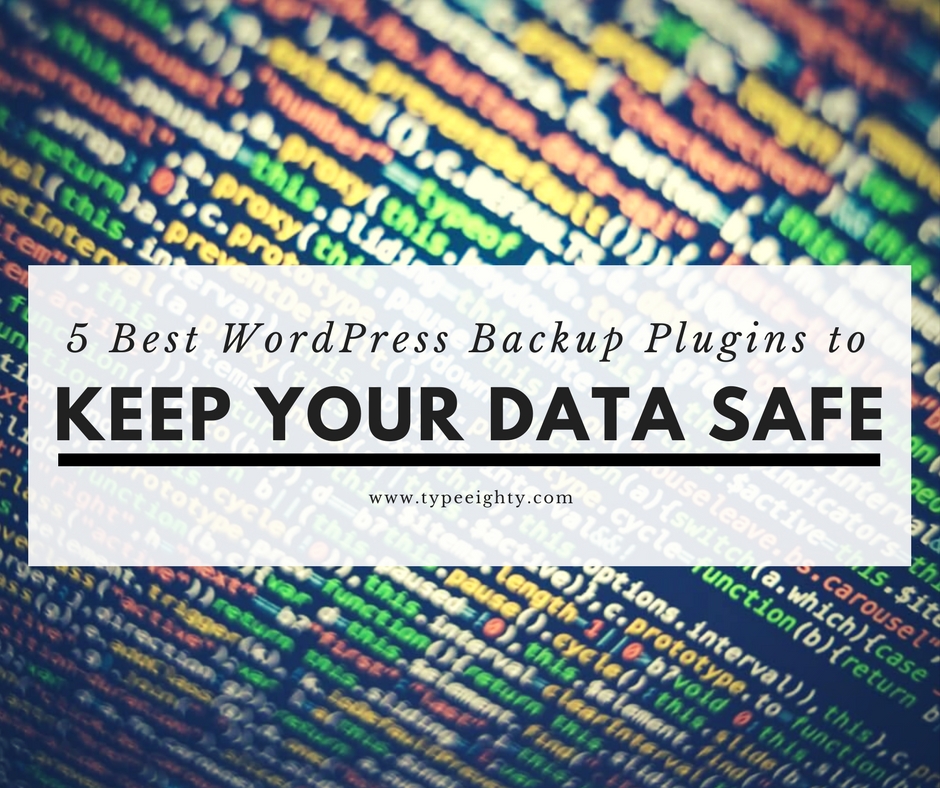 5 Best WordPress Backup Plugins
BackupBuddy
BackupBuddy is one of the most popular WordPress backup plugins with over 500,000 active installations. It is a premium plugin by iThemes with pricing starts from $80/year. With its current price tag, it is the most expensive backup plugin in this post.
With BackupBuddy, you can configure what you want to backup, when you want to backup and where you want to backup. You could choose to do a full backup of your site or only your database. Not only that, you could schedule your backup and BackupBuddy will handle everything. You could also choose where you want to store the backup files. BackupBuddy supports Dropbox, Amazon S3, Rackspace Cloud, FTP, Stash or simply email it to yourself.
Schedule your automatic backups with #BackupBuddy
Click To Tweet
When setting up the backup schedule, you could set different schedules. For example, you could backup your database daily and all the other files weekly or monthly to save some storage. BackupBuddy has tons of features, you could do migration or even run a malware scan on your site.
Starting from version 7 and above, you'll have access to BackupBuddy Stash Live for free with 1GB free Stash storage. Stash Live is a real-time cloud-based automatic WordPress backup. BackupBuddy will store your backup securely in your BackupBuddy Stash account.
VaultPress
VaultPress is a backup and security WordPress plugin developed by Automattic. VaultPress is a feature in Jetpack that requires subscription. To start with, you can get its lowest tier plan as low as $3.50/month.
VaultPress automatically backups your site daily with unlimited storage space and stores 30-day backup archives on its lowest plan. If you prefer to have unlimited backup archives, you'll have to opt-in for their Professional plan at $29/month.
VaultPress also offers 1-click automated restores and easy site migration. When it comes to security, VaultPress triumphs over other backup plugins. VaultPress could serve as security plugin for your website too. It currently offers uptime monitoring, brute force protection and comments spam protection.
VaultPress has 3 different price plans with higher price plan offering more features.
Easy migration with #VaultPress
Click To Tweet
UpdraftPlus WordPress Backup Plugin
UpdraftPlus WordPress Backup Plugin is the most popular WordPress backup plugin with over 1 million active installations. You could backup your files and database into the cloud storage and restore with a single click. UpdraftPlus simplifies backups and restoration.
You can schedule how frequent you want to backup your files and database and how many copies you want to keep. UpdraftPlus gives you the options to choose what you want to back up. You can backup your website straight to Dropbox, Google Drive, Amazon S3, Updraft Vault.
UpdraftPlus has tons of premium add-ons that you can purchase separately. Some of the useful add-ons will allow you to migrate your WordPress site, manage a WordPress multisite, or manage multiple WordPress sites from a central dashboard.
WordPress backup is easy with #UpdraftPlus
Click To Tweet
BackWPUp
BackWPUp is a free WordPress backup plugin that's easy to use and does the job well. You could schedule complete automatic backups of your WordPress site and store the backups at cloud storage of your choice. The free version supports Dropbox, Microsoft Azure, Amazon S3, Rackspace Cloud Files or other FTP servers.
BackWPUp saves your backup file in a single .zip file that makes restoration a breeze. Simply import the .zip file to restore your backup. It can't get any easier.
A good thing with BackWPUp is that it lists down all the files that are included in the backup in a list. You could easily select which files you want to exclude in your backup. Another nice feature that comes with the free version is the DB Check. Always select this option and let BackWPUp repair any defect in your database.
BackWPUp has a Pro version starting from $69 that comes with priority support, differential backups instead of complete backup, and more cloud storage options to choose from.
Exclude your backup files easily with #BackWPUp
Click To Tweet
Duplicator
Duplicator is another popular WordPress backup plugin with more than 1 million active installations to date. You could create a full backup of your WordPress site and further configure what you want to exclude in your backup files.
Duplicator seems to take a different approach with their Free plan compared to other plugins we have discussed previously. While the free plan is lacking the option to schedule automatic backups or store your backup file in cloud storage, Duplicator allows you to migrate or clone a website from one location to another. This is a good feature trade-off in my opinion.
Migration is one of the features I used a lot. When working on a WordPress site, I like to duplicate a live site to a staging area where I can experiment with new features or design without breaking my live site.
Similar to BackWPUp, Duplicator will create a single .zip file for your complete website backup. You could restore your backup file easily with its installer script.
Duplicator has a Pro version starting at $39/year. With the Pro version, you can schedule automatic backups and store your backups on cloud storage such as Dropbox, Google Drive, Amazon S3 or FTP.
Complete WordPress migration with #Duplicator Free
Click To Tweet
Final Thoughts
As a site owner, it is important to make sure that you backup your website regularly even if you're just starting up. Backups give you peace of mind when someone hacked your website or when you accidentally screwed things up. In most cases, you could use a free version of any backup plugins listed here to get started with.
How do you backup your WordPress site? What backup plugin are you currently using?
Don't find it on the list? Leave a comment below.
---
I am a front-end developer and I teaches entrepreneurs who want to grow their audience, start an online business, and pursue their dream life. When I spend time away from the computer, I enjoy reading books and having a cup of green tea.
All author posts