One of the most important things you should be doing with your website is building your email list. Looking back, how many of you wish you have started it sooner?
I do…
Even if you're not doing email marketing, it's important to collect email addresses of your visitors to build up your audience. So, what's holding me back?
Well when I said I wish I started sooner, I meant started the RIGHT WAY sooner.
Sure, I added simple signup forms on my website's header, footer, sidebar (pretty sure you do too), but it doesn't work well at all.
Most of the times, users ignore these signup forms.
Is it so hard to get people to sign up?
Building your email list doesn't have to be hard. It doesn't even require technical knowledge.
In today's post, I'm going to review OptinMonster plugin and why this is the right tool to grow your email list.
Note: Some of the links are affiliate links, meaning if you choose to buy them, I will earn a commission at no extra cost to you. I hope you find my OptinMonster review useful.
What is OptinMonster?
Launched in 2013, OptinMonster is a powerful conversion optimization and lead generation software. It was created by Syed Balkhi from WP Beginner and Thomas Griffen.
OptinMonster converts your website visitors into subscribers & customers. Its sole purpose is to help you build your email list fast and they make it easy for you.
It only takes 60 seconds flat to set up. How easy and fast is that?
Get started with more than 65 high-performing pre-made templates. Change the messaging and branding and make it yours.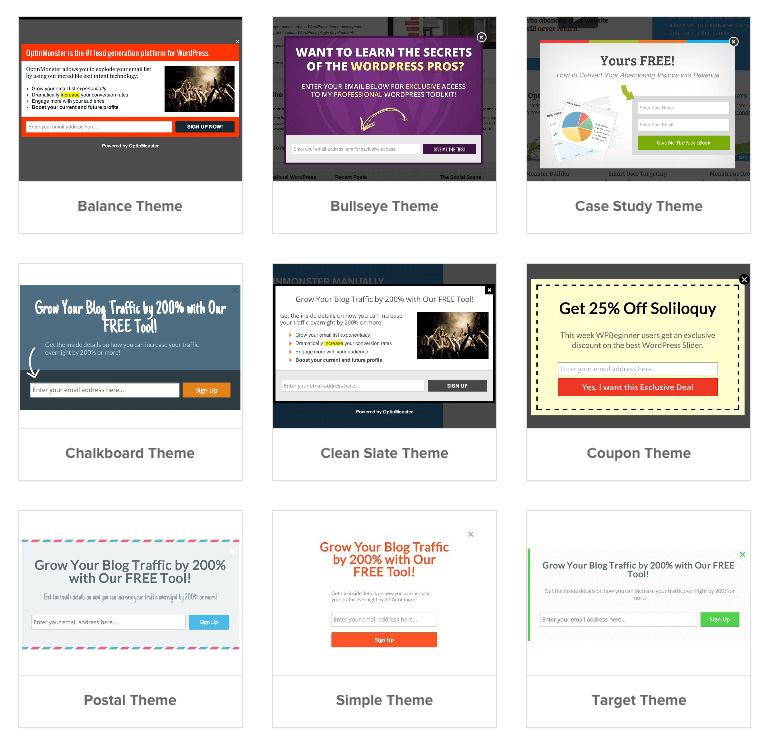 You don't need to worry about integrating OptinMonster with your email providers. OptinMonster integrates seamlessly with MailChimp, Aweber, ConvertKit, Campaign Monitor, and many more.
For further reading, we recommend:
[clickToTweet tweet="I grew my email list fast with #OptinMonster #digitalmarketing #emaillist" quote="I grew my email list fast with OptinMonster, you can do it too!"]
Key Features
OptinMonster has tons of features that you could explore and configure for each of your optin forms to optimise your conversion rate and grow your email list fast.
In this section, I am going to go through some of the key features that set them apart from other lead generation software in the market. I will also add a link to a case study for each feature so you can learn from the best on how you can optimize your conversion.
Drag 'n' Drop Visual Builder
With drag & drop builder, you could create an attractive campaign optimized to deliver the highest conversion rate.
Point and click on any element and you can customize the message, colors, images and everything else to match your branding.
You don't need any design or coding skills at all.
To get started with the builder, you can choose from 7 different campaign types: Lightbox Popups, Floating Bars, Fullscreen Welcome Mats, Inline Forms, Slide-In Forms, Sidebar Forms, and Mobile-Friendly Popups.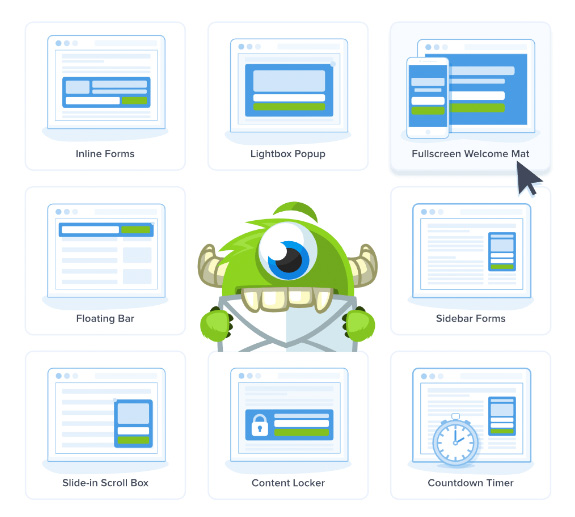 All these campaign designs are mobile responsive means 100% mobile friendly.
Exit-Intent Technology
Did you know that over 70% of people who leave your website will never return?
Exit-intent technology is what sets OptinMonster apart from other tools. OptinMonster's exit-intent technology detects user behavior and prompts them with a targeted campaign at the precise moment they are about to leave.
The exit-intent trigger allows you to convert abandoning visitors into subscribers and customers. It works by tracking the mouse movement to detect when it leaves the browser window.
eCommerce websites are using this feature to reduce cart abandonment and increase conversion. While bloggers are using this feature to grow their email list and free-trial signups.
Exit-intent technology is only available to Pro account. If you're on Basic or Plus account, you could use the timer-display control or scroll triggering to display the opt-in form.
Check out how ActiveCampaign adds 800 free trials every month.
[clickToTweet tweet="Grow your email list with exit-intent from #optinmonster #digitalmarketing" quote="Grow your email list with exit-intent from OptinMonster"]
Page-Level Targeting
OptinMonster's Page-Level Targeting lets you use behavior personalization to create targeted page-specific campaign that generates more leads, attract more subscribers and make more sales.
You could segment your email list based on their interest and interaction with your website. You could send relevant emails to your subscribers that results in higher open rates, higher clickthrough rates, and lower unsubscribe rates.
A/B Testing
You can't run an effective marketing campaign without split testing. While A/B Testing is a common feature of an email marketing tool, not all of them are easy to set up. OptinMonster knows it full well, that's why they built this feature right into their app.
With a click of a button, you can create a split test and try different content, headlines, layouts, styles, and campaign triggers to see what converts best. OptinMonster will show different variations randomly to your visitor until you know which one is delivering the highest conversion rate.
Check out how ATLAS Workbase increases conversion of their website visitors by 1500% with A/B testing.
[clickToTweet tweet="You can't run an effective marketing campaign without split testing. #optinmonster" quote="You can't run an effective marketing campaign without split testing."]
MonsterLink
With MonsterLink, you can turn any image or link into a 2-step optin campaign, with no coding required. When visitors click on the image or link, there's a popup asking them to subscribe or buy.
MonsterLink is one of OptinMonster's most effective campaign types, increasing conversions for some users by up to 785%.
According to OptinMonster, this multi-step optin technology is using the Zeigarnik Effect. This psychology principle says that when people start something, they're more likely to finish it. In this case, when visitors click on a link or button, they're more likely to finish the process and subscribe.
Conversion Analytics
You can integrate your Google Analytics account to OptinMonster with Conversion Analytics. This will allow you to track and measure conversion goal and success of your optin campaigns.
You can analyze clicks, views and overall conversion rate for each of your optin campaigns. If you're using OptinMonster's A/B Testing feature, you can also get that data for all of your split tests.
Conversion Analytics also tracks the referral pages for each optin, allowing you to see which pages on your site are driving the most conversions.
Pricing Plan
If you're looking for a free plan or even free trial, you're not gonna like it. There's none.
OptinMonster's pricing plan starts from $9/month for Basic, $19/month for Plus, and $29/month for Pro.
One thing I found it good is that you can create unlimited optin forms even with the Basic plan. So you could get started with the Basic plan and go higher in the plan to unlock more features.
The most popular pricing plan is the Pro plan. This is the plan you should go for if you want to use the Exit-Intent Technology feature.
When you sign up for OptinMonster, you're protected by their 100% No-Risk Double-Guarantee. It means if you don't like it over the next 14 days, OptinMonster will refund all your money. No questions asked.
[clickToTweet tweet="Grow your email list with #OptinMonster, 100% money back guarantee in 14 days." quote="Grow your email list with OptinMonster, 100% money back guarantee in 14 days."]
Final Thoughts
OptinMonster is a great lead generation software for agencies, businesses, and bloggers. Is OptinMonster right for you?
If you want to grow your email list, improve conversion, and reduce cart abandonment, you should try OptinMonster.
When I just started a new blog, I do find even the Basic plan at $9/month to be expensive. But looking at how fast OptinMonster could help you grow your email list, it's a good investment. Afterall, your email list is your gold mine.
However, in order for this to work effectively, your blog needs to have a healthy amount of traffic and loyal visitors. If you only have a couple of views daily, weekly or even monthly, it's gonna be even harder to convert this small amount of traffic to subscribe to your email list.
If you're having a hard time to increase your page views or traffic, I recommend you to get this eBook from The She Approach. Ana shares her proven new strategies that you can follow to boost your traffic.
If you don't think OptinMonster is right for you, cancel your subscription in 14 days and get a full refund of all your money.
---
I am a front-end developer and I teaches entrepreneurs who want to grow their audience, start an online business, and pursue their dream life. When I spend time away from the computer, I enjoy reading books and having a cup of green tea.
All author posts