I started using a domain name generator after wasting too much time trying to get a nice domain name that's still available.
In this post, I'm going to show you why you should use domain name generators.
First, you'll learn why is it important to have a good domain name.
Then, I'll show you 10 best domain name generators you could use now.
The best part?
These best domain name generators are free to use.
Let's get started…
[clickToTweet tweet="Find out 7 criteria of a good domain. #flamedomain #panabee" quote="Find out 7 criteria of a good domain name."]
Why Is It Important to Have a Good Domain Name?
One of the most important steps when starting a new website for your business is choosing a domain name. There are many considerations to take into account when choosing a domain.
Some people prefer a brandable domain name such as nike.com, vimeo.com.
Others might prefer keyword-based domain names such as alifeofproductivity.com or unsettle.org.
The most important question to ask is:
Does the domain name make sense to your business or your audiences?
If you're blogging about cats, grumpycats.com could be a good domain name to get.
But if you're blogging about the lifestyle, fashion or selling beauty products, grumpycats.com doesn't sound that good anymore.
So what're the criteria of a good domain name?
A good domain name should be:
Easy to type and memorable
Easy to pronounce
Short
Brandable
Using targeted keyword
Available across all social media channels
Using top level domain name
Once you found your domain name, quickly register the domain name at Namecheap before it's taken out.
Disclosure: this is an affiliate link. If you choose to buy through my link I will get a small commission at no extra cost to you. Thank you so much for the support.
[clickToTweet tweet="#DomainNameGenerator can help you find your perfect domain." quote="#DomainNameGenerator can help you find your perfect domain."]
Why Should You Use Domain Name Generators?
Domain Name Generator is a tool or service that allows you to create a domain name based on different criteria you defined.
It makes it easy for you to choose domain names that are still available for purchase.
Imagine this scenario:
You think of a domain name to get and you realized it's not available… bummer..
You're lucky with your next domain, it's still available.. so you quickly get it.. and when you tried to make your social media accounts, the usernames are all taken… bummer..
With Domain name generators, you could easily identify which domain names are taken and which are available for purchase.
Even if the one you intended to get isn't available, these domain name generators will provide you with sometimes.. a better option that you never think of.
Once you've registered a domain name, you could set up a custom domain email address with Gmail for free.
There are tons of domain name generators available online. To keep it easy for you, I am only listing down domain name generators that I recommend.
To get the best results out of these tools, you should try out a couple of domain name generators and don't stick to just ONE.
10 Best Domain Name Generators
1. Namelix
Namelix is a powerful business/domain name generator using the power of Artificial Intelligence (AI). Just key in a word and you'll see thousands of available domain names returned. Filter the result easily and display those with domains available.
2. Flame Domain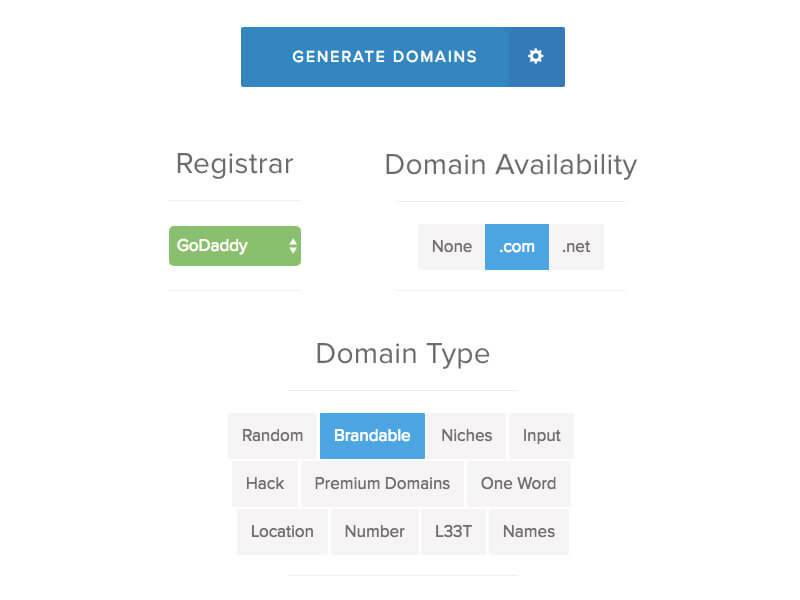 Flame Domain is a complete domain name generator that will get you set up in no time. First, you can choose the different domain types such as random, brandable, niches, input, etc. You can mix and match all the different options and generate the domains. It will return all the available .com domain. Select any of the domain, Flame Domain will provide you with suggestions for the business name ideas, logo and display the availability of the social media username.
3. Business Name Generator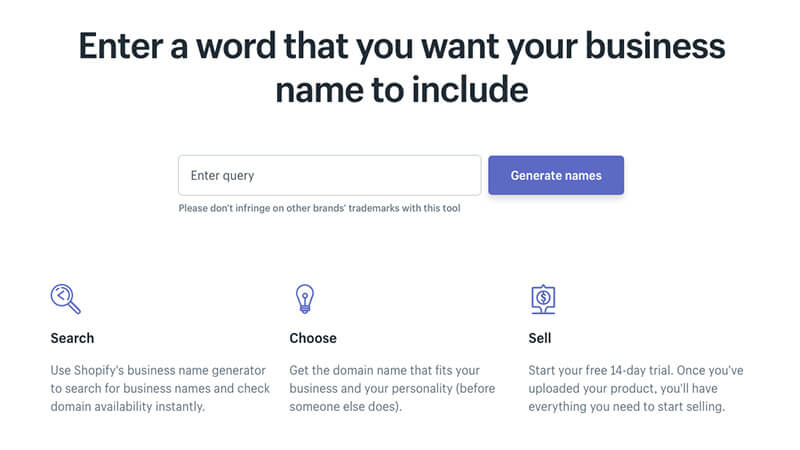 Business Name Generator by Shopify is another simple to use domain name generator that focus on your business name or keywords. Enter any names you have in mind and it will generate a list of available domains containing the keywords. While this tool is meant for you to launch your site on Shopify.
Simply head down to Namecheap to register the domain name.
Disclosure: this is an affiliate link. If you choose to buy through my link I will get a small commission at no extra cost to you. Thank you so much for the support.
4. Lean Domain Search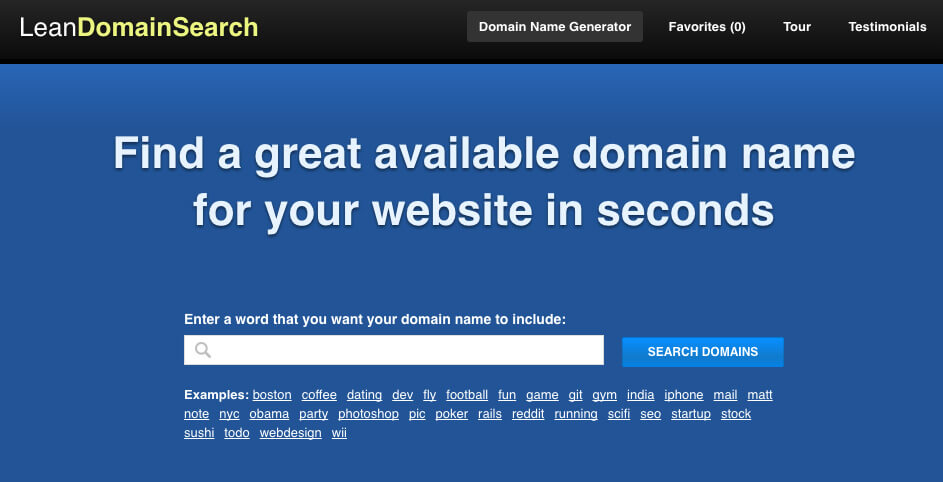 Lean Domain Search is from the people behind WordPress. This tool is very straightforward to use. Type in a keyword you want your domain name to include and you'll see thousands of .com options to choose from. You can filter domains that start or end with the keyword.
[clickToTweet tweet="10 Best #DomainNameGenerators #flamedomain #leandomainsearch" quote="10 Best #DomainNameGenerators that actually works."]
5. Namesmith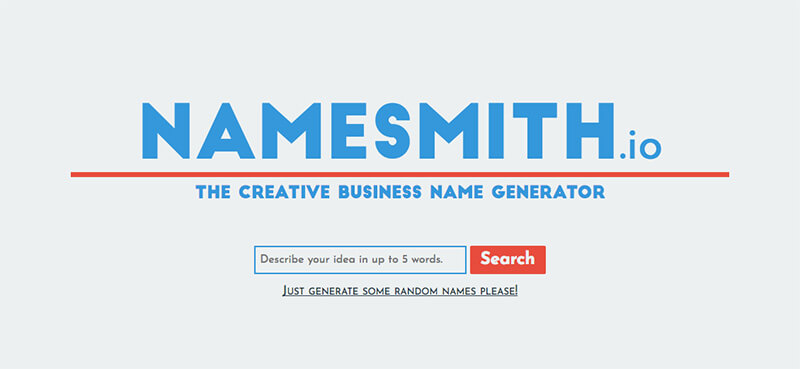 Namesmith is a fun domain name generator. Enter up to 5 words to describe your idea and let Namesmith generate fun names for you. You can choose a name that rhymes or blends well or even stick to the exact keywords. If you want to find a creative name for your brand, simply hit up the random names. I actually registered a couple of random domain names because it's hard to resist.
6. DomainTyper

DomainTyper is one of the best domain name generators. The first thing you'll notice is as you type in a domain name, the search result fires up instantly as you type. It shows you prices for different top-level domains and you could generate some domain names or domain name hacks. The best part is you could check the social networks username right from the search result. It's easy to find out if Facebook page or twitter username is available before you register the domain.
7. Panabee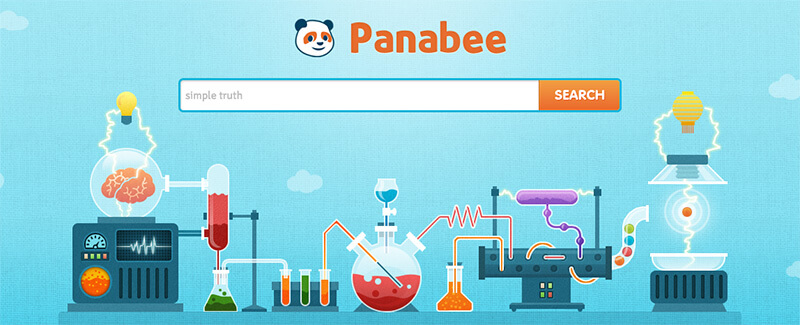 With Panabee, you have to describe your ideas in two words and it will give you a list of .com domain names based certain permutations. If you're looking for different domain extensions, you could easily switch and let Panabee refresh the list. Panabee also display a list of related terms based on your keywords that you can search for.[/vc_column_text]
8. DomainsBot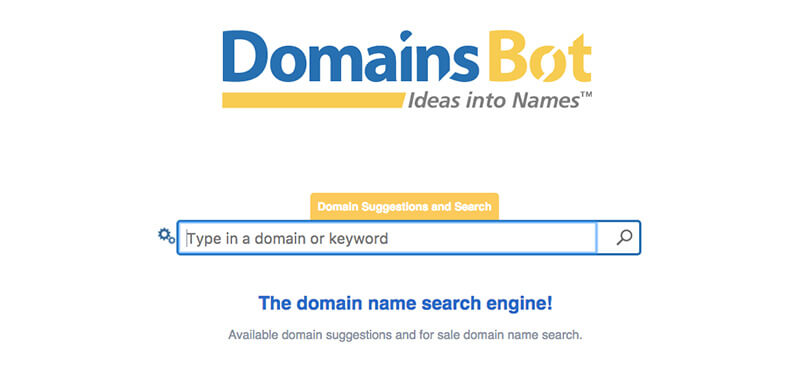 DomainsBot will return search results based on your keyword. It's easy to modify your search criteria by updating the domain extensions, synonyms, prefixes or suffixes. You could also monitor domain that's not currently available and make an offer for it. What good about DomainsBot is it will display multiple domain name registrar and its current pricing for you to buy the domain. Though I would suggest sticking with Namecheap as it provides free 1-year WHOIS protection.
9. Namemesh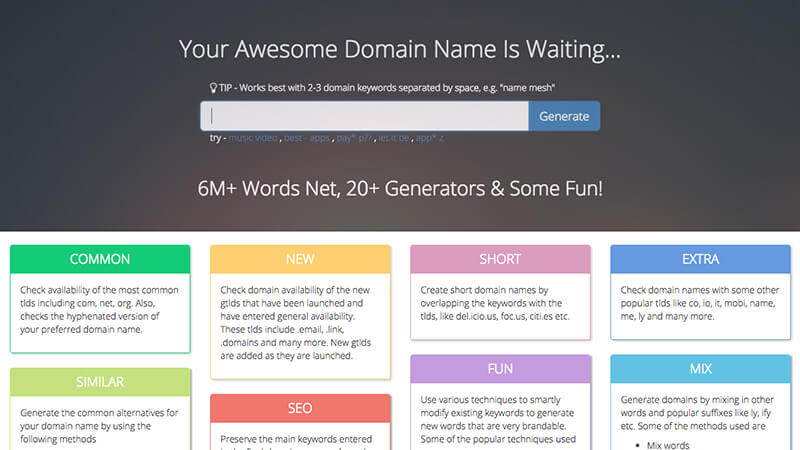 Namemesh is one of the better domain name generators that work with multiple keywords. Based on your keywords, Namemesh will categorize all the domain names into 8 different categories: Common, New, Short, Extra, Similar, SEO, Fun and Mix. Namemesh will also display whether the Twitter or Facebook username is available.
10. Domainr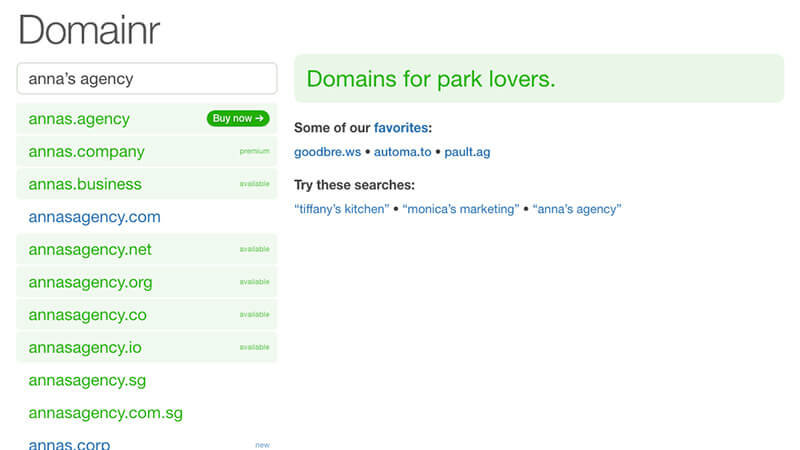 Domainr is a simple domain name generator that provides cool domain name hack options as you type in. The available domain name will be highlighted in green. You can click on it and see all the options available to purchase the domain name that you like.
[clickToTweet tweet="10 Best #DomainNameGenerator to get your perfect domain name #namemesh #domainr" quote="You should try a few #DomainNameGenerator to get your perfect domain name"]
Final Thoughts
Getting the perfect domain name for your website now is not as easy as it used to be. You need to be a little bit creative sometimes if the domain name you preferred is taken.
The good thing is these domain name generators make it so much easier to get new ideas for your domain name.
Click here to register a domain on Namecheap. Get 1-year FREE WhoisGuard.
Disclosure: this is an affiliate link. If you choose to buy through my link I will get a small commission at no extra cost to you. Thank you so much for the support.
Now that you've registered your domain name, what's next?
---
I am a front-end developer and I teaches entrepreneurs who want to grow their audience, start an online business, and pursue their dream life. When I spend time away from the computer, I enjoy reading books and having a cup of green tea.
All author posts