When you first registered for a domain, the first thing that came to mind is how do you set up your email address account with your own custom domain name.
While Google makes it easy for you to do that with its GSuite, the downside is you have to pay $5/user/month. It doesn't seem much but it's still a cost you have to bear, especially when you need more than 1 email address.
I've been using my own custom domain in Gmail for years without paying anything, thanks to Mailgun.
Before you could start with this tutorial, you'll need to get a domain name registered. I always buy my domain name from NameCheap as it's reliable and you'll get 1-year FREE WhoisGuard.
Disclosure: This is an affiliate link. If you choose to buy through my link I will get a small commission at no extra cost to you. Thank you so much for the support.
The Whois database is accessible to anyone on the internet. What does it mean to you?
It means:
When you register a domain, you are exposing your personal information such as name, address, email and phone number to spammers, marketing firms, and online fraudsters.
WhoisGuard was designed to protect you, the domain owner, so your confidential information is no longer available for public consumption.
In this post, I'm going to show you how you could configure your Mailgun account and connect it to your Gmail.
Keep reading.

Why Custom Domain Email Address?
There are no definite reasons why you have to use a custom email address. One thing for sure, using custom email address makes your business looks more credible and professional.
Imagine if getting an email from typeeighty@gmail.com and hello@typeeighty.com. Which email do you think you'll more likely to open and respond to?
You can create different email addresses for specific needs. For example, I created hello@typeeighty.com for my general contact form. Besides that, I also created yuyu@typeeighty.com for my personal email address.
Recommended reading: Supercharge your social share with Social Warfare
Custom email address makes your business more memorable to your target audience. It helps to build your brand.
Having a custom domain email address helps to build your brand.
Click To Tweet
Setting up Mailgun Account
Instead of paying for a G Suite account, there's a way to add a custom email address to your Gmail for free.
Here comes Mailgun!
Mailgun is a service that allows you to send, receive and track email automatically. Mailgun is free for 10,000 emails a month.
Start using Mailgun and use a custom domain email address with your Gmail for free.
Click To Tweet
Now, you can use your Gmail account with a custom domain…
… your domain.
Head down to Mailgun and sign up for an account. Make sure you sign up with your Gmail or other email accounts you have access to.
Don't use an email account with your custom domain to register. If you do, you will encounter problem verifying your account.
Once you've verified and activated your account, your dashboard should look something like this.

Next, you need to add your domain to Mailgun. You can click on "Add a custom domain" link under "Getting Started" or click "Domains" and "Add New Domain" button.
By default, Mailgun recommends you to use a subdomain instead of the root domain. That is use "mg.typeeighty.com" instead "typeeighty.com".
Ignore that!
I had a problem sending email from my root domain when I used a subdomain.
After adding a domain, Mailgun will prompt you to verify your domain.
You need to update your DNS Records for sending and receiving emails with Mailgun and for tracking activities such as opens, clicks and unsubscribes.
Go to the DNS provider that you use to manage your domain and add the DNS records provided by Mailgun and wait for the domain to verify successfully.
If you followed my previous post, I am using Google Cloud's Cloud DNS to manage my domain DNS. This is how your DNS records should look like more or less.

As you can see I added:
MX records that specify how the email should be routed with the SMTP server.
TXT records that are known as SPF and DKIM that's required for sending and receiving emails with Mailgun.
CName record is optional. You could add this if you want to track opens, clicks and unsubscribes.
Once you have updated your DNS records, go back to the Domains page and click on your domain.
Scroll down to "Domain Verification & DNS" section and click on it to expand the tab.
Finally, click on the "Check DNS Records Now" and you should see green checks on each of the records indicating that your domain is verified.
Then click on the big "Domain Verification & DNS" header to expand it, and click the "Check DNS Records" Now button.
You should see green checkmarks on the MX and TXT records indicating that setup was successful.
Setting up SMTP Credentials
Now that your domain has been verified. It's time to add some email addresses. If you're not on your domain page, go back to your domain page.
Your domain should be active by now.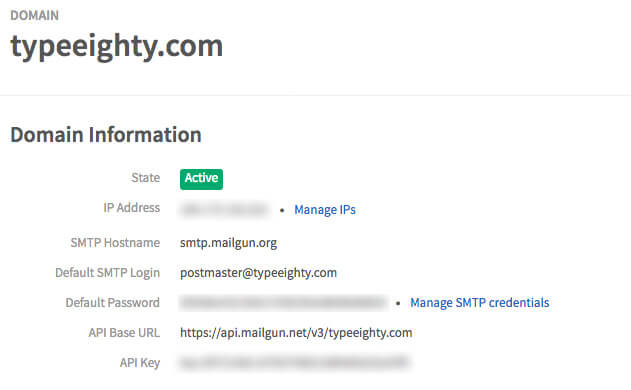 Click "Manage SMTP credentials". This page will list all the email addresses that can send or receive emails for your domain.
And click on "New SMTP Credential" button to start adding your email address and password.

For my website, I've set up 2 email address: hello@typeeighty.com and yuyu@typeeighty.com.
You can add as many as you want to depend on your needs.
Setting up Email Forwarding
This step is one of the important steps you need to do to make sure your Gmail account can receive emails to the custom email addresses your created earlier.
Email forwarding basically will forward emails that the server received to the specified address.
In Mailgun, you do this with Routes.
Click on "Routes" on the top navigation and click "Create Route".
If you're like me, just launched your site and you're doing everything by yourself. I would create a route that would catch all emails sent to my custom domain and forward all those emails to my Gmail account.
Which means email sent to hello@typeeighty.com and yuyu@typeeighty.com will be forwarded to my Gmail account.
Catch All Route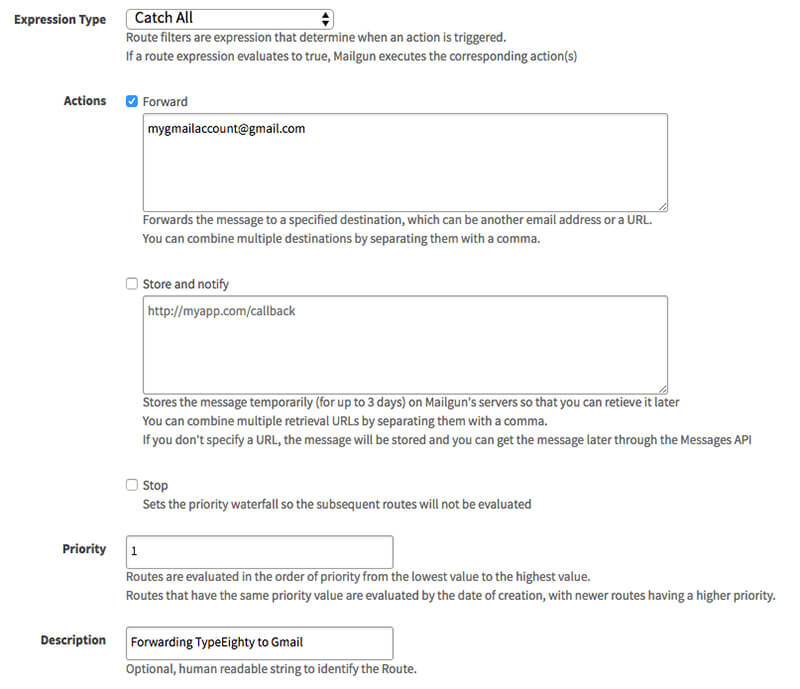 This is the simplest route. Just check the "Forward" checkbox, enter your Gmail address and set Priority to 1. And you're all set.
This setup works fine for me right now. But as my team is growing, I might want to assign a different team member to handle different email address or I might set up another email address from another team member.
When that happens, our "Catch All" route won't work as it should be anymore.
I will need to apply multiple different routes so that emails can be forwarded to its respected recipient.
This is an example of a route that I would implement in the future to accommodate that.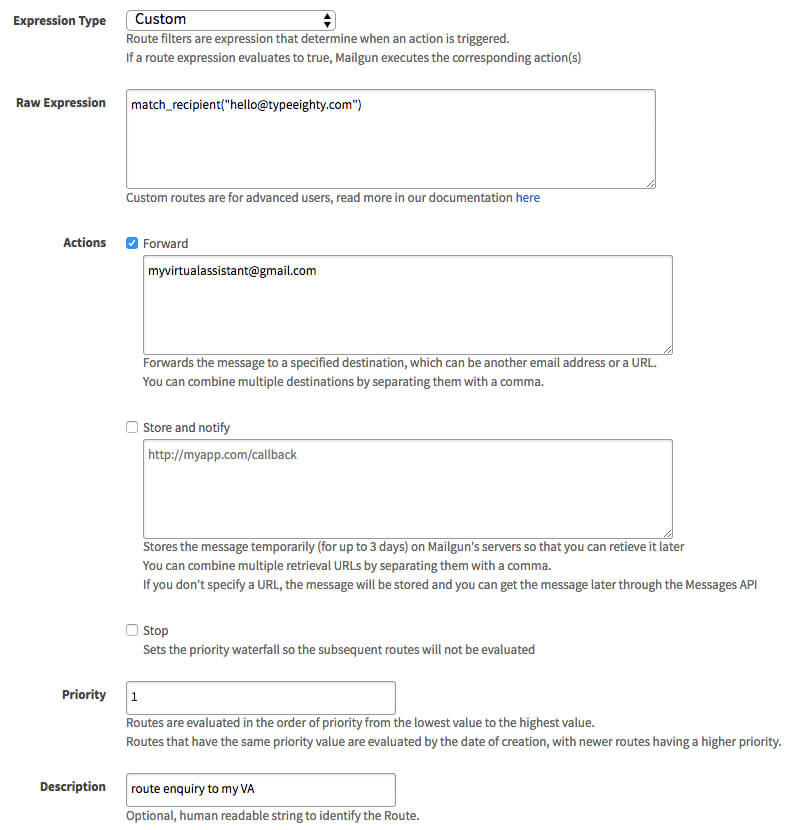 So I might assign a team member or a virtual assistant to handle any inquiries sent to hello@typeeighty.com for example.
Note: Routes are evaluated in the order of priority from the lowest value to the highest value.
Routes that have the same priority value are evaluated by the date of creation, with newer routes having a higher priority.
The good thing about Mailgun's Route is that it's easy to test the route and check where the email will be forwarded to.

As you can see, once I added the new route and set it to lower priority, the new route will take effect.
Mailgun makes it easy to receive and forward emails.
Click To Tweet
Setting up Custom Email Address on Gmail
Now you can receive emails on a custom domain and Mailgun will forward emails to your Gmail account.
What about sending email from your custom domain?
Let's add those email address to your Gmail account.
Go to "Accounts and Import" in Gmail setting. Click on "Add another email address".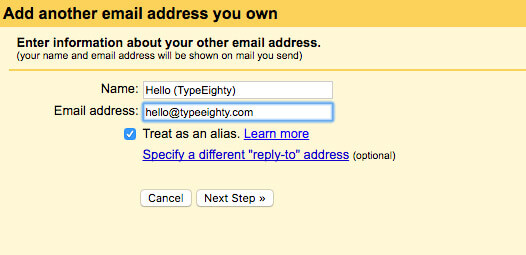 Enter the custom email address you created earlier. Click "Next Step".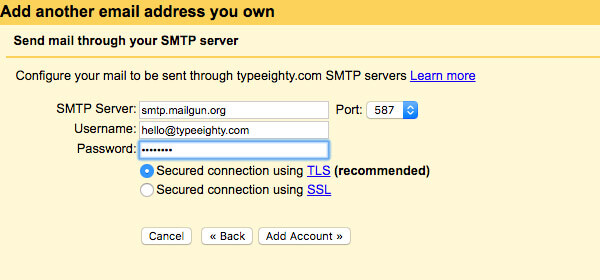 Enter the following settings:
SMTP Server: smtp.mailgun.org
Port: 587
Username: The full email address, e.g hello@typeeighty.com
Password: Enter the password you used to create the email address in Mailgun
Click "Add Account".
You'll need to enter the confirmation code that Google sent to the email address which is forwarded to your Gmail.
Voila!
You're done.
Do you know you can add other email address to your Gmail? No more switching emails.
Click To Tweet
Final Thoughts
Having custom email address is important for you and your business. It helps to build your branding and makes you look more credible.
With service such as Mailgun, we can save at least $5/month for a branded email address.
Now you can send email using custom domain right from your Gmail for free up to 10,000 emails a month!
If you have any questions, leave a comment below!