I think you'll agree with me when I say:
It's REALLY hard to keep your workspace or your desk organized and get more work done.
Well, as it turns out, you easily keep your desk organized by following these easy steps that will also increase your productivity and enable you to get more work done.
In this post, I am going to share with you 20 easy ways that you can easily apply on your workspace, make it less messy and be more productive.
1. Start over from scratch
First of all:
The easiest way to declutter your desk is to start from scratch.
Take everything off your desk and out of your drawer and put it in a box or on another table so you can go through it.
Chances are you won't need every single item that's been sitting on your desk or drawer.
"Productivity is never an accident. It is always the result of a commitment to excellence, intelligent planning, and focused effort." – Paul J. Meyer
2. Reduce your office items
It always feels good to have office supplies or accessories readily available as and when you need it.
But depending on what your job is or what you do, you don't need all if not some of it.
So unless they serve a purpose, take them off your desk.
Either find them a home OR throw them away.
3. Throw away old and unnecessary items
Take a look around your desk for anything, and I meant anything… that's no longer current.
This could be outdated calendar from last year, answered or even unanswered mail that's been laying around as long as you can remember.
Now:
It is time to throw those items away or put them in a storage box if you think you need to hold on to those items.
My advice, throw away your last year calendar if you do have one.
4. Keep a trash can within reach
Is your trash can too far from your desk?
This might sound silly at first but if you have to get up from your desk to reach the trash can, then it's probably is.
Getting up off your chair to throw trash is a distraction and will reduce your productivity.
Make sure you can easily reach the trash can from your chair.
5. Don't keep trash lying down
Whether it is a piece of paper, answered or unanswered mail, printout or food wrapper, never keep it lying down on your desk.
It's fairly easy to simply crumple the paper and sneak it in the drawer or put it somewhere on your desk.
Thinking you would throw it away later.. maybe when you're taking a 5-min break… maybe when you finish working.. maybe.. just maybe…
Guess what:
This is the habit that you need to get rid of.
This is why you need to keep a trash can within reach so you can easily toss those trash in.
6. Minimize incoming papers
Minimize the amount of incoming papers as much as you can.
Cancel unnecessary subscriptions.
Opt for electronic statements as most companies provide that option by now.
Keep a soft copy of your document and reduce the amount of printouts, if you don't need it in hard copy.
We're not against printing. But more than half of all pages printed are never used.
Save trees, save paper. Think before printing.
[clickToTweet tweet="Super easy ways to organize your workspace" quote="Save trees, save paper. Think before printing."]
7. Get some document trays
Let's face it:
It's not easy to minimize the incoming papers.
You should at least keep 2 document trays on your desk.
According to Neil Patel, a two-tray system is the simplest and most effective for handling incoming paper.
The system works as follows: the first tray will be the new tray to keep new documents and the second tray will be old tray where you keep documents you've opened or looked at and need to deal with.
This is a very simple approach.
But it works wonders for eliminating paper clutter from your desk, freeing you to be more productive.
Super Stacked Desk Set: Apart from the 2 document trays, this stacked desk organizer comes with a set of 12 signature ballpoints pens in black ink and additional storage to keep your essential writing tools. Its elegant and simple style will allow you to fit it in on any desk.

Kantek Acrylic Double Letter Tray: This letter tray features 2 front loading trays. With non-skid feet and heavy cast clear acrylic, it combines both elegance and durability.
8. Store things digitally
Pen and paper are still one of the most convenient ways to list down what you need to do for the day.
You probably also have tons of Post-its cluttering your desk or sticking on your computer.
A Get Things Done (GTD) app like OmniFocus 2 for Mac and iOS devices could easily solve this problem and remove 90% of those notes cluttering your workspace.
If you're using Android or Windows, try Wunderlist, you can easily sync the information across all devices and platforms.
9. Banish Post-it notes
I can't stress further the importance of this.
Stop using Post-its to remind yourself of something important.
Post-its are easy to lose and tend to get pretty ugly when plastered all over your monitor or desk.
Following up with #8 above, either use a notebook to write down all the information or follow my suggestion above and use GTD app like OmniFocus 2 or Wunderlist.
Chris Bowler has shared an in-depth review on The Sweet Setup which explains why OmniFocus 2 is the best productivity and GTD app suite for Mac and iOS devices.
10. Keep your most essential items close by
Arrange your items strategically.
If you always have to reach out for certain items a lot, make sure they are within your reach. You can try to arrange your items in order of importance.
Sooner or later, you will realize an item or two on your desk that you rarely use and it's time to organize those items and find them a home.
11. Use an organizer
A simple organizer on your desk is probably what you need to help you organize your items. Each item will have its own home and you can return it once you have finished using it.
This is an easy way to organize your items and make it easy to find when you need them and with the right organizer, it will add more flair to your desk.
Clear Plastic Desktop Organizer: This desktop organizer provides multiple compartments to keep your desktop, craft, and electronic items organized. It's also great for storing items like envelopes, notepads and file folders or documents.

Desk Organizer Desktop Shelf and Keyboard Rack: Organizer for desktop with good ergonomics with separate compartments will let you organize your essential items with extra space to slide in your keyboard.

Satechi iDesk Multifunction Desktop Organizer: This desk organizer is another simple yet highly effective solution for keeping your work area neat and organized. This organizer features 3 USB ports to help you keep your devices charged all the time and specialized storage space for holding photos, memos, and business cards.
12. Create an extra storage on your desk
If you have a small working desk and without drawers, like me, you will find it hard to keep all your important stuff on the desk. Small peripherals like portable hard drive, keyboard, mouse are everyday tools that are hard to get away with.
Won't it be great to be able to have extra space on your desk to keep those things away so you can organize and unclutter it?
You might be wondering:
How could I keep those stuff off your desk when you're not using it but still keep it within reach anytime?
Well in this post I am sharing few products including one of my favorites.
These cool products will not only help to create extra storage on your desk but will give it a little decorative touch.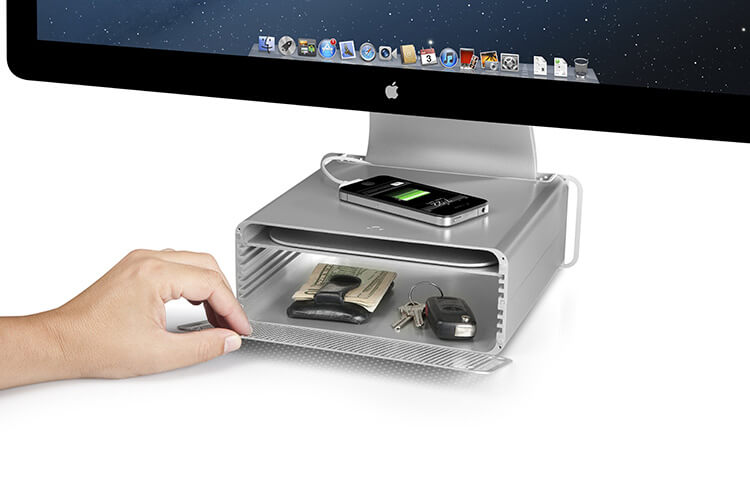 HiRise Mac Stand & Storage System: An uplifting experience, HiRise is an elegant iMac stand designed to elevate your iMac or Apple Display for the optimal viewing height with 6 different internal positions. It also creates a hidden storage compartment that's perfect for stashing hard drives, cables or other small items.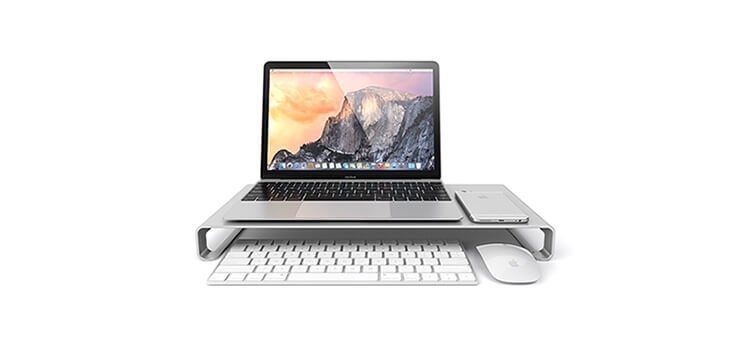 Satechi Aluminium Universal Stand: This sleek aluminum design monitor or laptop stand gives you additional storage to stow a keyboard below allowing you to maximize your workspace.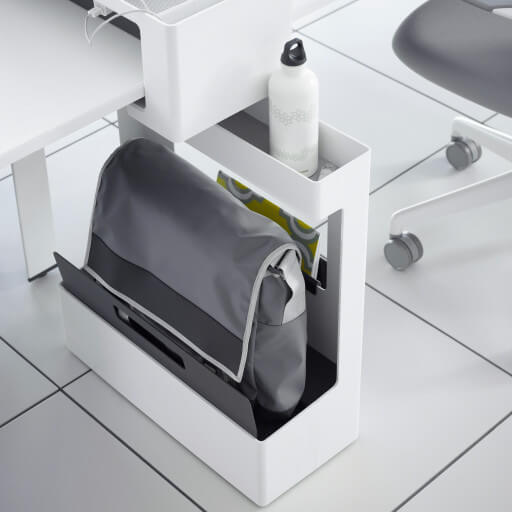 SOTO Mobile Caddy: You can utilize the space beneath your table for easy organization and extra storage. Its inline casters make it easy to pull out and push under work surfaces.
BackPack for Mac : This is one of my favorite products that gives me the space I need to keep my portable hard drive off my desk. It is built to be sleek and sturdy little shelf that is out of sight, but not out of reach. You can hang it on the front or back. 
Now:
You can organize your essential items and create a less cluttered workspace that you need to get work done.
13. Utilize wall space for extra storage
Whether you have a small desk or plenty of space to spread things out, utilizing your wall space for organizing and extra storage is always a smart idea.
But you're probably wondering:
"Why is it such a smart idea?"
Well to start off with:
It's convenient. You can keep your essential things stay close at hand but off your desk.
Organizing things make easier. You can separate your stuff and organize it based on its categories. And because it's on the wall, it's easier for you now to find what you're looking for. Rather than keeping everything together in your drawer.
It's stylish. With a bit more effort, you can transform those unused surface in style and add personality to your workspace.
If you fancy cool product that makes your workspace less boring, check out the items below from Quirky or Urbio.
These products are easy to apply and customize based on your needs and you can even personalize it and make it your own.
Other alternatives such as pegboards, cork-boards, and wire mesh board are all great way to hang up things and organize it based on your needs.
The good thing is there are a lot of awesome tutorials on how to make your own pegboards.
I've round up 2 of my favorites below so don't forget to check that out.
Loopits Storage and Hanging Organization:Loopits are handy storage straps that allow you to secure almost any object to a wall, cabinet, or workbench, instantly turning a surface into a storage solution. Their combination of wall-mountable disks and stretchy elastic bands allow for ultimate customization, enabling you to craft a setup to suit your exact needs. Finally, you can clear out your junk drawer and keep your miscellany within arm's reach.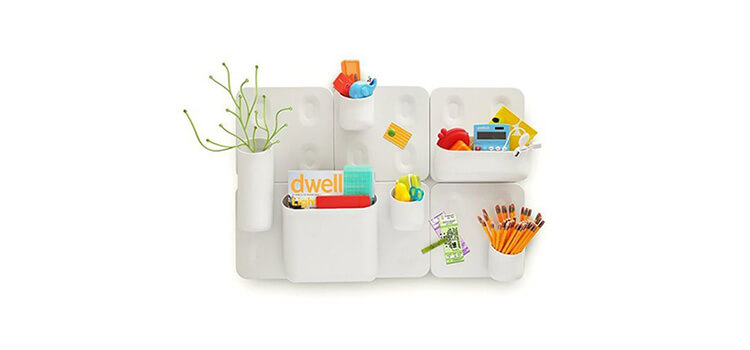 Urbio Happy Family Wall Planters: First-ever magnetic vertical garden and organization system for all types of organizational needs. It's recognized for design and style and engineered for function, performance, and durability. Designed to be modular, Urbio takes advantage of the surface area of your walls while adding a design kick to your dwelling.
[clickToTweet tweet="How to Organize Your Workspace with 20 Easy Steps." quote="Utilize wall space for extra storage when organizing your workspace"]
14. Keep your cord under control
With all the devices that you use at your desk, organizing the mess of cables on your desk is a never-ending battle.
Luckily there're plenty of cable management accessories that will help your desk looking neat and make it look more professional as well.
These cable management products that will get your cable organized and neatly managed.
Cable Clips: Keep your peripheral cables in place and within reach wherever you may need them. It's easy to let them slip under the desk. Cable clips will make sure you don't lose them.
Quirky Cordies POP Wire and Cable Organizer: If you keep few devices on your desk, which means few cables to organize. Probably, Cordies is the one you need. It's weighted base keeps your cords and cables from sliding off and its tight grip won't let anything slip that includes smaller cables like your earphone.
15. Hide those messy cables
Now that you have sorted out the cables on your desk, your desk should be tidier and neater.. at least, on the surface it is.
What's left now is to hide those messy, loose, tangled cables under the desk out of sight.
A cable management box is easy to install and makes a huge impact in a matter of seconds for easy cable cleanup. It's the perfect solution to hide your cables and keep your space neat and tidy.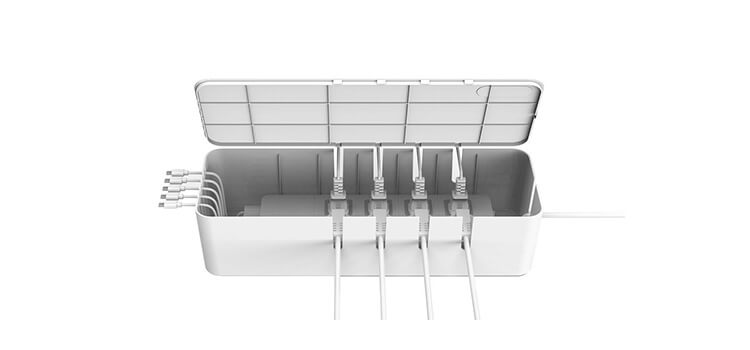 QICENT Cable Management Box: This cable management box combines optimal functionality with a stylish, contemporary design. The good thing about this particular box is that you can place your electronic devices on the specially designed lid where you can safely plug them into your charger. It is made of high quality and scratch resistant, High Strength Fire & H.E.A.T Resistant ABS plastic.
DMoose Cable Management Box: Cable management box by DMoose provides four cable cutouts with fireproof ABS material which allows you to safely manage and customize your cord organization. Staying true to their motto, "Give them Quality. That's the best kind of advertising", this cable management box comes with lifetime guarantee.
16. Separate your essential items
Do you keep lots of pen or pencils on your desk?
Pick a minimum amount of writing utensils and keep the rest tucked away in your drawer together with other office supplies.
Put your writing utensils in a specific spot, ideally separate from your desk organizer and return them to their home as soon as you use them to avoid the clutter of multiple writing utensils.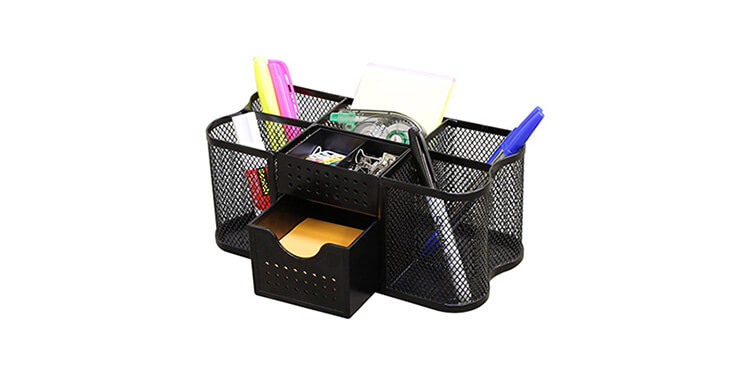 DecoBros Desk Supplies Organizer: This handy supplies organizer features 5 divided compartments for writing instruments with 2 additional shallow compartments, enough to keep all your essential utensils in one place.
SLABS Concrete Modular Desk Set: Slabs are modular, low-lying desk accessories made with smooth concrete, hand sanded and sealed.  There's a tray for pins and clips, a pen stand, a tape dispenser, and a dock.
Pencil Holder Volume 2: Creativity at the service of your office. The set is entirely handmade with lime wood, a type of wood that is perfect to create sculptures and to make precise carvings. Moreover, the wood used is neither treated nor painted, so as to have a real piece of craft in the office. This pencil holder is a true object of design that will give a unique touch of style to your workplace. Quality and convenience in one small object you must have on your desk.
17. Organize your drawer
Keeping your drawer organized is equally important.
You don't want to move the items from your desk and cram it all on your drawer.
Use drawer organizers to keep things tidier.
It's a good idea to label the compartment to keep things in their proper place. Putting your office supplies out of sight in your drawer will give your desk uncluttered look.
18. Use a label maker
Do you label your items or your storage space properly?
If you don't, it's probably best to start labeling them.
These labels will help you to organize your desk and drawers even if you're sharing desk or drawer with somebody else.
Invest in a good label maker and label your files, drawers, and boxes for an easy way to organize your desk and office. Whenever you need to find something, you'll know where to find it.
Brother P-Touch PT-D210 Label Maker: The P-touch PT-D210 makes it super easy to create great-looking labels for your home and home office. With its convenient one-touch keys, you can quickly access fonts, symbols, frames, and templates. Plus, you can preview your work on the display so that you know exactly how your label will look before you print. Don't forget to check out more in-depth review from The Sweet Home.
19. Keeps your book away
Do you read books a lot?
If you don't, you should start reading a book or two as people who read a lot are more likely to be successful.
If you do, do you stack your books on your desk hoping you read it anytime?
Now:
Put away your books off your desk.
Chances are, you rarely read it most of the times and they could easily occupy 60% of your desk space.
Keep them in the drawer if you have enough space, otherwise, you can look at installing floating bookshelf on the wall.
Not only it will give a modern feel to the workspace, but you will have more space to work.
Umbra Conceal Floating Bookshelf: Floating bookshelf can't go wrong with this award-winning design by Miron Lior.
Umbra Cubist Floating Wall Shelf: Inspired by abstract geometric art, the Cubist float wall shelf display brings art to life.
Umbra Stealth Wall Shelf: This decorative geometric shelf can be installed the way you like it
20. Add some flair and inspiration
If you've been following the steps above, you would probably have a pretty organized desk to focus on your work.
However, your desk might be a bit too plain to the eyes to see.
Guess what:
An organized desk shouldn't be dull and boring.
You could add some flair and inspiration to it.
Whether it's some flowers or pictures of your loved one, make sure what's near and dear to your heart is clearly on display.
I love the idea of having an inspirational quote poster that can serve as positive energy to get more work done.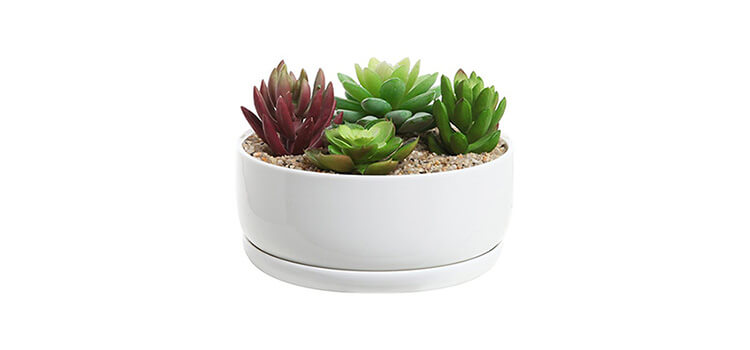 6 inch White Ceramic Round Succulent Planter Bowl: Adorable round ceramic plant pot will bring modern elegance to your plants. It boasts a removable water draining dish as well as a water draining hole at the base. Perfect for bringing style and greenery to your desk.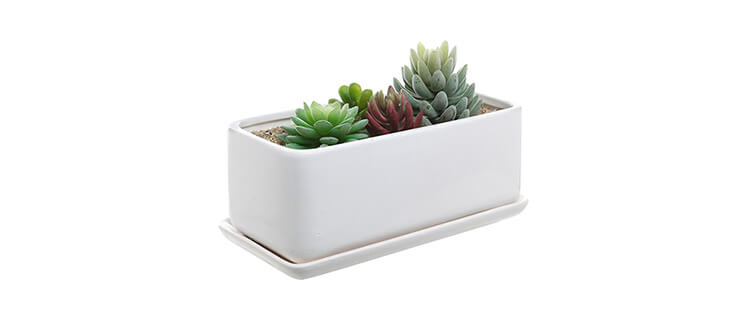 10 inch Rectangular Modern Minimalist White Ceramic Succulent Planter Pot: This modern ceramic planter pot is ideal for adding a refreshingly modern design to your desk. The 2 water draining holes and removable water draining tray make it ideal for housing live plants.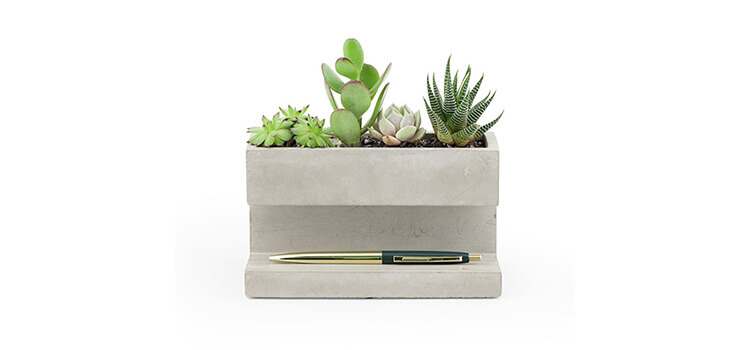 Kikkerland Concrete Desktop Planter: Desktop planter is made of solid concrete. The terraced base can hold pens, business cards or other small supplies you have. This desktop planter will add great tone to your desk.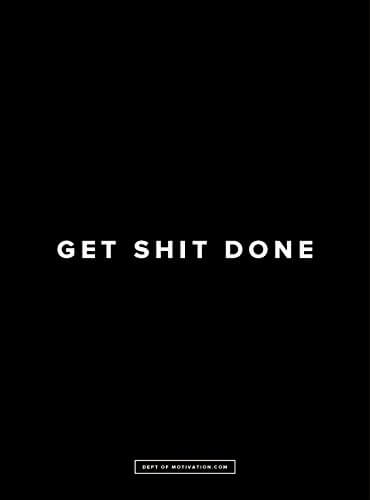 Poster "Get Shit DONE": Having organized desk won't help to get your work done if your mind wanders a lot. Keep yourself motivated and raise your productivity level with a little bit of motivational posters from Dept. of Motivation.
---
I am a front-end developer and I teaches entrepreneurs who want to grow their audience, start an online business, and pursue their dream life. When I spend time away from the computer, I enjoy reading books and having a cup of green tea.
All author posts